Tsarist General reburied in Moscow after 80 years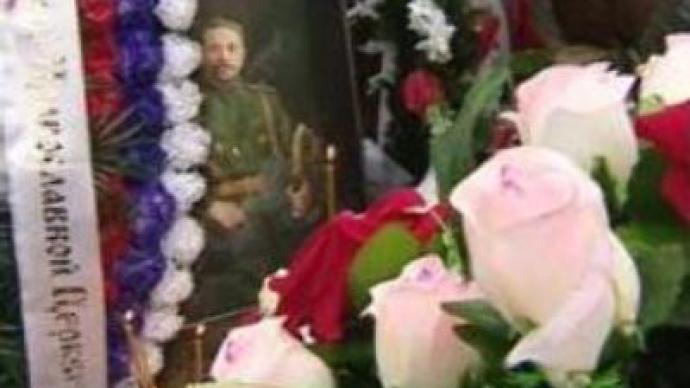 The remains of a Russian Tsarist General have been reburied in Moscow's Donskoy Monastery, after they were discovered in China. It's thought Vladimir Kappel died 80 years ago.
In Soviet times, Vladimir Kappel was portrayed as a villain. But cannons fired three times during his the military funeral in Moscow, befitting a national hero. Even talks of canonization have been started.Born in 1883 in the family of a Swedish officer who settled in Russia, Vladimir Kappel was a loyal monarchist, but also said that he would fight the Bolsheviks under any flag. In the winter of 1919 he assumed command of the Eastern Front. Threatened with encirclement by the advancing Bolsheviks, Kappel led his army on the Great Siberian Ice March, an eastward retreat that saved the lives of many of the 350,000 soldiers and their families.In a civil war renowned for its brutality, Kappel was known for his honour and chivalry. His army was forbidden from torturing enemy prisoners.After suffering frostbite on the journey, he had both feet amputated, but did not relinquish control. No longer able to walk, his soldiers would strap him onto his horse, from where he continued to issue orders. He died soon after, but his men did not abandon his body, and carried it with them for 2,000 kilometres, before burying him in Chita, in Eastern Siberia. With the Bolsheviks getting close again, his body was reburied in Harbin, in China.The Chinese communists removed his gravestone, and for a long time no one knew where he was buried. But his preserved remains were found last month. Kappel's grave is located between those of a fellow White General Anton Denikin and the Russian religious philosopher Ivan Ilyin.His rehabilitation and reburial wrap up another chapter in Russia's struggle to come to terms with its history. The country's war heroes on both sides of a fierce conflict are held in high regard, reflecting the people's divided opinion on their recent history.
You can share this story on social media: