Trains bridge Korean divide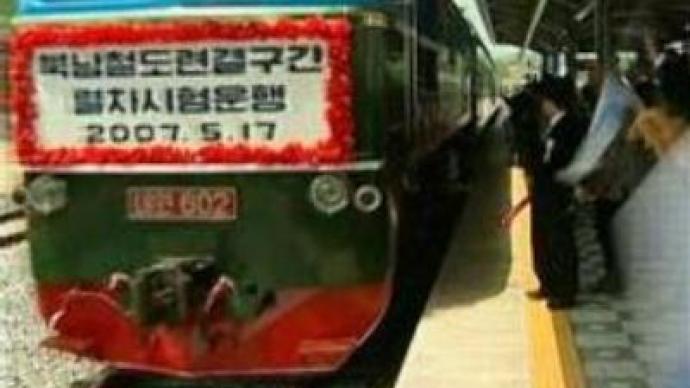 North and South Korea have made a historic gesture towards reconciliation. Two passenger trains have crossed the heavily fortified border between the two countries for the first time since the Korean War in 1950.
The test run of services between the two foes is the first since the train line was reconnected in 2003. The tests include two five-car trains with 150 people aboard – one departing from the North and another from the South. Despite unresolved tension over Pyongyang's failure to dismantle its nuclear programme, the symbolic journey is a small step towards normalisation in relations.
"It is not simply a test run. It means reconnecting the severed bloodline between our people. It means that the heart of the Korean peninsula is beating again,"
stated Lee Jae-Joung, South Korean Unification Minister. Kwon Ho Ung, North Korea's Head of the North-South Ministerial-level Talks, said the two Koreas "should not be derailed from the track or hesitate" in their moves toward unification. Nevertheless, not everyone was pleased by the event. Some South Koreans demonstrated, to demand their government do more to bring back people believed to have been kidnapped by the North Korean regime. Bong Tae-hong, Protest Leader, claimed,
"We are here to let people know that this devastating event is a waste of military resources. It is also deceiving people because South Korean government are not even demanding the return of prisoners of war from North Korea."
The protests though did little to dampen the spirits of the trains' passengers.
"I was sad to leave so quickly. It was a new feeling. It was fun. I want to travel again,"
said one of them. However, plans for a return trip remain unconfirmed.
You can share this story on social media: