Toronto police sued for profiling over 'hairy legs'
Published time: 2 Aug, 2012 09:52
Edited time: 2 Aug, 2012 13:52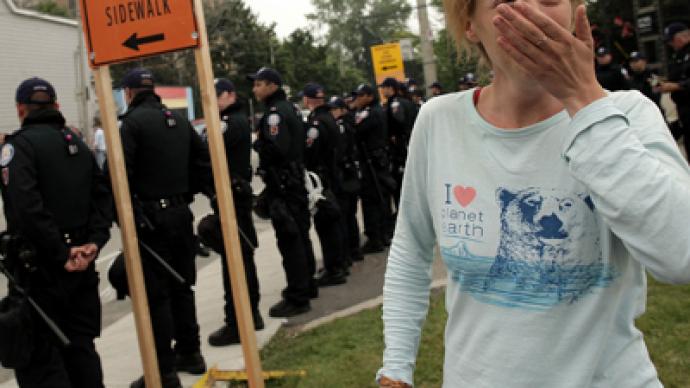 Seven people are suing the Toronto Police Department for $1.4 million for wrongful arrest during the June 2010 G20 summit. Women involved in the suit claim that they were profiled for "having hairy legs."
­
The five women and two men claim the police used "unreasonable criteria" and treated them with "profane, sexist and homophobic" comments during their detention, following the mass arrests that took place outside the summit.
The group's attorney, Davin Charney, told reporters that the female plaintiffs believed they were profiled by the police for having hairy legs.
According to the defense team, a note written by an officer at the time of the arrests was found by the Ontario Independent Police Review Director, which read, "All parties appear to be protesters; backpacks; clothing and females all have hairy legs."
When one of them asked for the reason for their arrest, the Toronto police officer said they "would make one up," said Charney.
One officer allegedly made derogatory comments, and told the female plaintiffs to "shave your legs, you dykes." Alicia Ridge, 27, claims she was sexually harassed at the time of the initial search.

"My arresting officer, who was male, decided to do an initial search of my body, which was just basically running his hand up the side of my leg and grabbing my ass, along with sexualized comments and comments that were put out there to create fear," news agency The Canadian Press reported.
The plaintiffs allege that police officers created a "climate … of hostility" during the protest, in reaction to vandalism by some protesters. The police then searched and arrested those who appeared to be protesting, mainly for wearing black clothes, bandanas, goggles and gas masks, the Toronto Star said.
The incident in question involved seven friends from Hamilton, Ontario, who were searched and detained by 10-15 officers outside a pizza restaurant on June 27, 2010. All were handcuffed and taken into custody. Six of the seven plaintiffs claim that they were strip-searched during detention, and held in appalling conditions.
The Toronto Police Department declined to comment on the lawsuit.
Rampant police abuses during G20 arrests?
More than 1,100 people were arrested in Toronto during the G20 protests. Several suits have already been filed, with some settled out of court. In May, Ontario's Independent Police Review Director Gerry McNeilly released the G20 Systemic Review Report, examining police actions that weekend.
Police arrested and prosecuted more than 40 people for vandalism during the protests, including the use of 'Black Bloc' tactics like smashing windows and attacking police cars.
The report concluded that "many police officers ignored basic rights citizens have under the Charter and overstepped their authority when they stopped and searched them arbitrarily and without reasonable grounds in law," McNeilly wrote. "Numerous police officers used excessive force when arresting individuals."
Dozens of officers are facing various disciplinary charges, including allegations of excessive use of force and illegal detention.