Tomsk: architectural pearl of western Siberia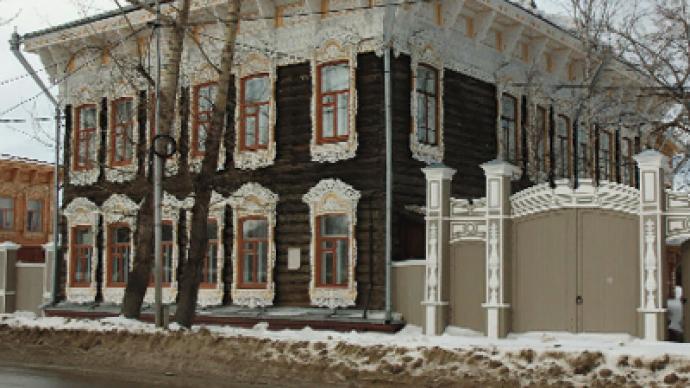 For outsiders, Siberia is most often associated with punishment and the GULAG, and the Tomsk Region is no exception, despite its stunning natural environment and the beautiful architecture of the capital, Tomsk.
With its 400-year history, the city of Tomsk in south-western Siberia is a major educational, science and innovation center.Nevertheless, the region's past and the negative image of being the land of convicts and special settlers still affects its present.
"The land that the devil created"
There is a saying every Tomsk local knows: "God created paradise, while the Devil created Narym." Narym is located in the southern part of the Tomsk region – difficult to get to, and right smack in the middle of a swamp, cut off from the rest of the world.It is a place renowned as a destination for exiles, dating back to the Tsarist regime. "The first exiles came here in 1638, they were most likely Polish Jesuits," says Galina Zubareva, head of the Narym Political Exile Museum. "Later there were more exiles – the Decembrists who rose up against the Tsar in 1825, then Russia's pre-revolutionary political parties, like the Bolsheviks, anarchists and Narodniks."In the early 19th Century, the population grew rapidly because of exiles – to the point that every fifth resident of Tomsk and its surrounding areas was an exile. "The last batch were former wealthy peasants. They were called Oppositionists, but in fact these people were just hard-working farmers," Galina Zubareva says.Among those exiled peasants was Nikolay Guk. When, during Stalin's time, forced collective farming was introduced, many landowning families lost their properties and were deported to Siberia.Guk's family was sent here in 1931 when he was just four years old. "We were transported by horse-drawn carriage, then by railway, then locked on a boat down the Ob River," Nikolay Guk recalls. "At the destination, there was nothing except burnt-up forest. We had to build barracks of wood and earth to live in. When it got cold, we made window panes of ice slabs. We had no food, only dry bread we had with us. It was very difficult."While Nikolay's plight was because of Stalin, the former Soviet leader himself was banished to Narym. In 1912, Stalin was exiled for the sixth time and sentenced to four years in Siberia – but after only 39 days, he escaped. Stalin's notoriety lives on in Tomsk, preserved in this "Investigative Prison Museum". Until the 1940s, the historic building housed the Tomsk Pre-trial Detention Center and was also the headquarters of the People's Commissariat for Internal Affairs, or NKVD. "Here, people charged with counter-revolutionary activities were kept in detention, interrogated, sentenced to death. And there is evidence that executions were also performed here," said museum director Vasily Khanevich. Aleksey Nesterenko was sentenced to ten years of hard labor in one of Stalin's GULAGs and five years in exile. "I was tried for treason against the Motherland. I told them it wasn't against the Motherland – it was against the government. The cases and charges they made up for me were horrific," Nesterenko said. One of the prison cells in the former detention center is only 11 square meters, yet it housed about 15-20 people, who would sit around and wait for a decision on their fate. But despite the tragedies in Tomsk's history, some good things did come out of them. "Many political exiles were well-educated people who contributed a lot to developing education, culture and economy in Siberia," says Vasily Khanevich. "Decembrists set up schools for local children. Exiled Polish rebels developed sausage production businesses here, coffee and barber shops." For Tomsk citizens, the past and the future are inseparable. Men like Aleksey look ahead while young people look back, eager to learn lessons from the past."I still feel the pain. But I just have to carry on with life. I'm 86 and I'd like to live till I'm 90 and see what happens next," Aleksey Nesterenko said.
You can share this story on social media: