'Unrepentant' Pussy Riot member denied early release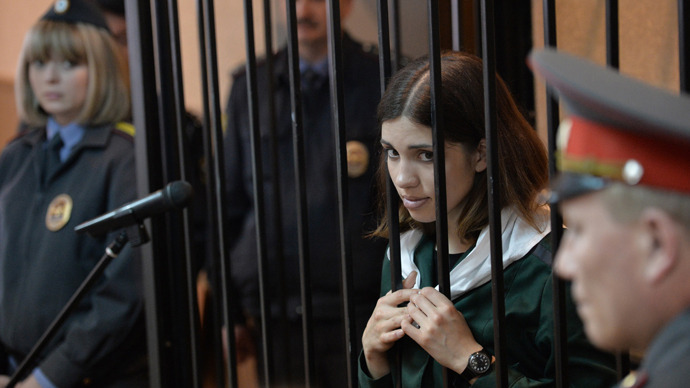 Nadezhda Tolokonnikova, one of three members of performance group Pussy Riot sentenced to two years for organizing a 'Punk Prayer' in Moscow's biggest cathedral, has been denied parole after a court hearing.
An 8-hour session in a provincial court in Mordovia in central Russia, where Tolokonnikova is serving her term, ended when the judge denied her early release, saying the inmate had "refused to repent," did not contribute productively to work at the penal colony, and broke several rules.
"I am sure the inmate has evoked empathy with her story," said the prosecutor to a court room packed with national and foreign media.
"But objectively the references from her penal colony show that she has not earned her early release."
Profiles written by her officers described 23-year-old Tolokonnikova as "stubborn, fierce, decisive, mostly unrepentant and insensitive to criticism." She also reportedly persistently failed to complete the set amount of sewing during compulsory work sessions, and did not participate sufficiently in cultural activities at the women's corrective institution. The document concluded that Tolokonnikova "had not completed her course of psychological and physical rehabilitation."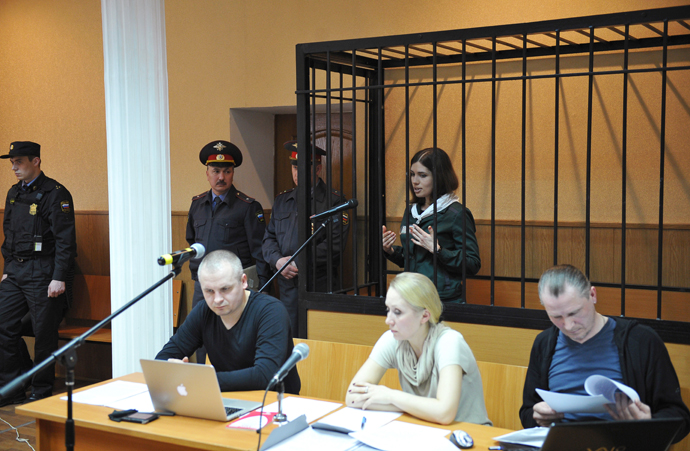 Tolokonnikova's lawyers argued that the defendant posed no danger to society (several prominent Russian human rights activists vouched for her), was suffering from persistent headaches the cause of which had not been diagnosed by the doctors at the penitentiary, and was losing connection with her five-year-old daughter.
The defense team characterized their client's behavior as "impeccable," and said they would appeal the decision of the court, which they said was based on improperly compiled evidence.
Three members of Pussy Riot were jailed for two years for hooliganism and causing public offense following a performance of a "prayer" targeting the Russian Orthodox Church and Vladimir Putin, in Christ the Savior Cathedral next to the Kremlin in February last year.
One of the three, Yekaterina Samusevich, was released on probation in October last year. The other two will be set free in spring of 2014. 
The trial divided Russian society, and provoked condemnation throughout the West, as human rights organizations and public figures, including Madonna spoke out in defense of the performance group. Meanwhile, a new law has now been passed in the Russian parliament that makes offending the feelings of  believers a crime.