Three presidents agree on new Caspian pipeline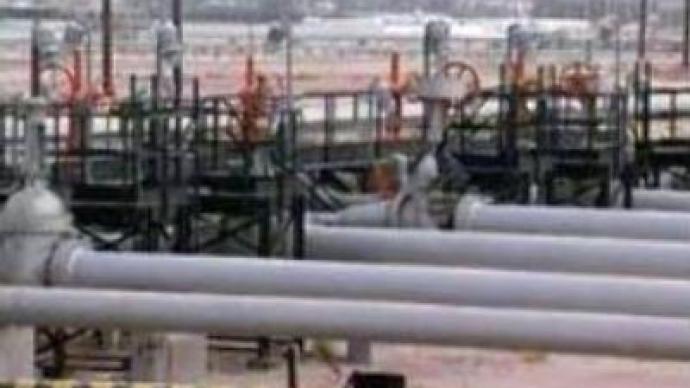 The leaders of Russia, Kazakhstan and Turkmenistan have agreed to build a new natural gas pipeline around the Caspian sea. The pipeline will transfer Turkmen gas to Russia and will pass through Kazakhstan.
The natural gas pipeline linking Turkmenistan, Kazakhstan and Russia is more than just an economic matter for each of these countries. For Kazakhstan and Turkmenistan it was about making a choice. For Russia – about preserving its foothold in the strategic Caspian region.Visiting Turkmenistan at very short notice, Vladimir Putin apparently knew he wouldn't be leaving with empty hands.
"We have opened the Caspian route on our Turkmen partner's request. It's an old pipeline, it hasn't been used for a long time. The Turkmen side asked us to restore it. Its top capacity is 10.5 BLN cubic meters. We can and we will reconstruct it and add a new branch, so by 2012 we'll boost the supply by at least 20 BLN,"
he said after signing the agreement.Going along the Caspian coast through Turkmenistan and Kazakhstan to Russia, the pipeline will cost around $US 1 BLN. As part of the Caspian project, the three countries along with Uzbekistan agreed to restore and modernise the old Central Asia – Centre gas pipeline. The move will renew and extend the existing network, The leaders say this is simply more practical and cost-effective.
"We are responsible for the construction of the stretch trough Kazakhstan. Turkmenistan is responsible for the stretch along its territory. Then the two pipelines will be connected to the Russian network. Getting access to transportation facilities is part of good relations between any integrated states. Diversification of oil and gas supply at advantageous terms is what is valuable. There is no politics to it,"
Kazakh President Nursultan Nazarbayev said.Ashkhabad is keen on diversifying its energy partners. It has recently signed a contract with China, under which it will provide some 30 BLN cubic meters of natural gas a year. Other pipeline projects from Turkmenistan to Iran, China Turkey and Afghanistan are also considered.
"Diversification of gas extraction and distribution is happening across the world. Setting up a west-bound Caspian gas pipeline is still on the agenda and will be considered in the future,"
announced the Turkmen leader, Gurbanguly Berdymuhammedov.Russia's energy relations with Turkmenistan are called a strategic partnership. The countries are bound by 20-years-long contract. 2/3 of Turkmen gas export goes to Gazprom. But while Ashkhabad's natural gas production is growing, the existing Russian pipeline cannot take any more – its capacity is limited to 50 BLN cubic meters a year. When finished, the Caspian gas pipeline would add a transporting capacity of 30 BLN cubic meters a year. An alternative project considered by Ashkhabad is a pipeline leading through the Caspian Sea to Turkey. But Russian Energy Minister, Viktor Khristenko doubts the feasibility of this project:
"The legal, technological and environmental risks this project involves are so huge that it's impossible to find an investor for it – unless it's a political project, of course,"
the minister said.Other ambitious projects, such as railways linking Uzbekistan, Turkmenistan, Kazakhstan with Russia and possibly with Iran were also discussed and could be implemented shortly.
You can share this story on social media: