Tens of thousands of Tunisians rally against Islamist govt (VIDEO)
Tens of thousands of protesters took to the streets of Tunis on Tuesday demanding the removal of the transitional Islamist government. It was the largest public protest since the assassination of a popular opposition leader two weeks ago.
Tunisia's secular opposition is attempting to push the Islamist Ennahda-led party out of government and dissolve the transitional National Constituent Assembly (ANC), which is at work on a new constitution.

"The people want the fall of the regime," the crowds shouted. They were joined by the powerful Tunisian General Labor Union, which called on its 60,000 members to participate in the rally.

Mohamed Brahmi, a leftist politician, was gunned down in the Tunisian capital on July 25, sparking the current unrest. His death came months after the assassination of Chokri Belaid, a champion of the secular left. Tuesday's protest marked the six-month anniversary of Belaid's murder.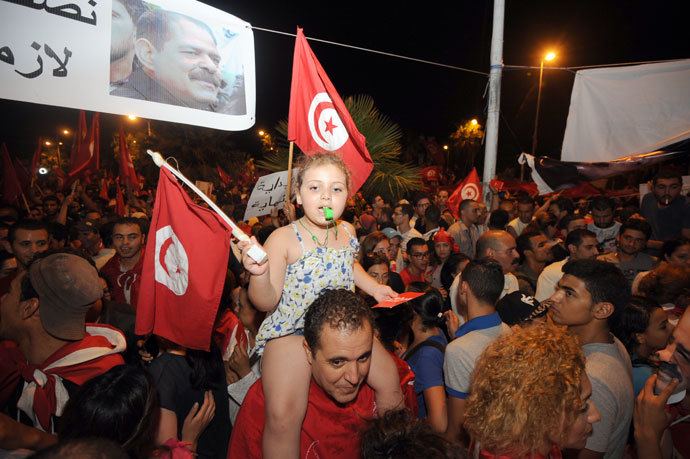 More than 70 members of the ANC resigned and then held a sit-in to protest the Belaid and Brahmi assassinations.

Mustapha Ben Jaafar, the speaker of the ANC, said lawmakers would continue work on the new constitution and plan new elections when "dialogue commences." The body has already overrun its promised deadline by eight months. 
"I bear responsibility as president of the Constituent Assembly for suspending work of the council until a dialogue is started," Ben Jaafar said in a televised speech. "This is in the service of Tunisia in order to guarantee its transition to democracy."   
The most obvious comparison to Tunisia's political strife is the recent uprising in Egypt. Less than one year after President Mohamed Morsi and the Muslim Brotherhood were elected Egyptians took to the streets to force another administration change.

Brahmi's family, Belaid's family, and members of the Tunisian opposition have implicated Ennahda in the murders.  

"This proves the desire for liberation from Brotherhood rule will not be broken," Belaid's widow, Basma, told Reuters, comparing the Ennahda government to the Muslim Brotherhood. "This is a message to end their rule, from which we have only seen disasters such as violence and assassinations." 
The current series of protests have been compared to the political turmoil that toppled Zine al-Abidine Ben Ali in January 2011, sparking the Arab Spring. Despite the unrest across the Middle East, it is too soon to determine how history will view the Arab Spring, Anna Boyd, a senior Middle East analyst at HIS Country Risk, told RT. 
"It's going to take some time to resolve this issue, we aren't likely to see a lot of back and forth," she said. "There is a major debate now happening in Tunisia about what the future of the country should look like: should it be Islamist or Secularist."