Thousands protest against Iraq war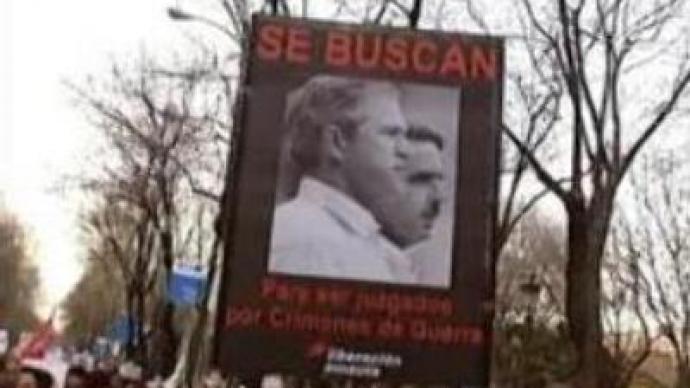 Thousands of protesters have held rallies around the world to mark the 4th anniversary of the invasion of Iraq. Demonstrators in Australia demanded their troops be brought home from Iraq and Afghanistan.
Both Sydney and Melbourne saw protests against the government, which supports the war. Anti-war gatherings in Spain were the biggest in Europe. Some 400,000 demonstrators marched in Madrid on Saturday, organisers say.
"According to Bush, this war was only going to take a few weeks, and it has been four years. Reading about the number of deaths in Iraq every day makes me feel so powerless. I find that frightening,"
Pedro Almodovar, a Spanish filmmaker, said. Activists also gathered to voice their opposition to Iraq in Istanbul. More than 3,000 protesters took part in two separate demonstrations there. In Malasya, people gathered at the U.S. embassy in the capital city of Kuala Lumpur. And in Washington D.C., thousands of demonstrators protested against the war with similar rallies taking place across the U.S. The coalition that organised the anti-war rally in Washington, said that thousands of protesters had travelled there from more than 200 cities across the U.S. to voice their opposition to the war. Their demonstration also marks the 40th anniversary of the famous 1967 march on the Pentagon, to protest against the war in Vietnam. With the growing cost of the war, in both dollars and human lives, public support is quickly diminishing for the Iraq war, much like it was during Vietnam. Meanwhile, former U.S. Ambassador to the United Nations, John Bolton, who was also one the masterminds of the Iraqi campaign, backed President George Bush's initiative to send more troops to Iraq.
You can share this story on social media: