Thousands of Iraqis gather for anti-American protests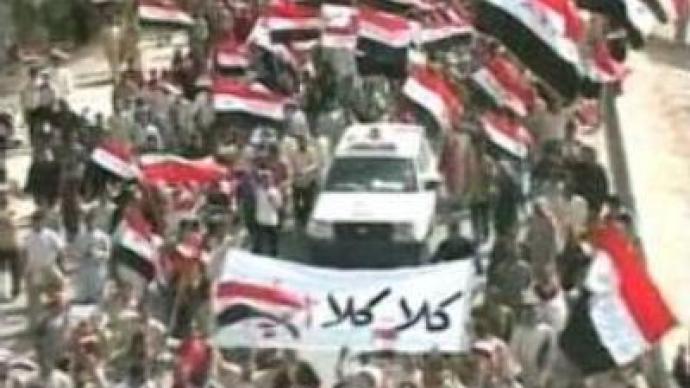 Tens of thousands of Iraqis in the country have held large anti-American protests to mark the fourth anniversary of the fall of Baghdad. The marches have taken place in the two holy Shi'ite cities of Kufa and Najaf.
Outside Baghdad the anniversary was marked by protests against the continuing U.S. occupation.The demonstration has been called by the Shi'ite radical cleric, Moqtada al-Sadr.But in Baghdad, the scene has been quiet with a 24 hour vehicle curfew in place to prevent car bomb attacks. The normally-busy streets of the capital were almost empty – with only pedestrians and soldiers allowed out.Tens of thousands of Iraqis have been killed in the past year alone – more than 3,250 U.S. soldiers are dead and widespread sectarian violence between Sunni's and Shi'ites has taken the country to the brink of civil war.Baghdad has now become a heaven for terrorists – who are to a greater extent responsible for encouraging the bloodshed and instability.And anger over the continuing presence of the U.S.-led coalition has also been the root cause of more violence.The U.S. President's administration says it has determined "to stay the course in Iraq" and see stability restored across the country.But four years after the fall of Baghdad the situation remains critical.
You can share this story on social media: