The Media Mirror: what's in today's Russian newspapers?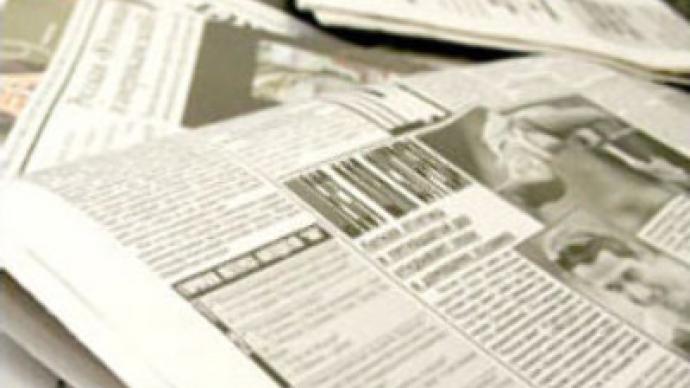 Dmitry Medvedev – a liberal or not? Kosovo – a big problem for Europe or just a routine one? And a family reunion after 66 years. These are some of the topics the Media Mirror has selected from the recent weekly and daily editions.
The weekly OGONYOK poses the question, "Is Mr Medvedev a liberal?" Political scientist Vitaly Ivanov thinks he is not. Ivanov says this needs no proof. Putin is not a liberal and he is highly unlikely to choose a liberal as his co-ruler. No "new times" are looming. The Putin era is going to continue.
The same magazine presents another opinion from by political commentator Aleksandr Brudberg. He writes Medvedev may not be a liberal, but there's still no sense in having a heated discussion over it. Other matters are more important at the moment, such as the continuation of economic and political stability.
ROSSIYSKAYA GAZETA daily calls the breakaway region of Serbia "Ameri-Kosovo". The paper writes that the new European nation has all the makings of the most eager satellite of the U.S. in the world, while for Europe it brings the danger of a unity breach.
NOVAYA GAZETA's correspondent Aleksandre Mineev reports from Brussels thtat the Kosovo discussion in the Council of Europe produced no breach whatsoever. The writer believes in the near future Europe will become instrumental in the resolving of the Kosovo crisis by including Kosovo as well as Serbia in the process of European unity.
IZVESTIA daily newspaper writes that movie director Vladimir Chebotarev, 87, well known for his highly popular films about WW2, has just found his daughter after 66 years of separation. In 1941 Chebotarev, a young artillery lieutenant survived for a year in German-occupied Ukraine after he fled from a POW camp. He met his first love in the village he was hiding in. He saw his first-born daughter for the last time when he was leaving to attempt a crossing of the front line back to the Russian side. He succeeded but he never saw his first wife again. They both thought each other dead for decades while in fact they lived in the same city. His wife actually died ten years ago, but a TV show that reunites families separated by the Great War found his daughter and his grandchildren in Moscow.
You can share this story on social media: