The Media Mirror - Today's Russian press review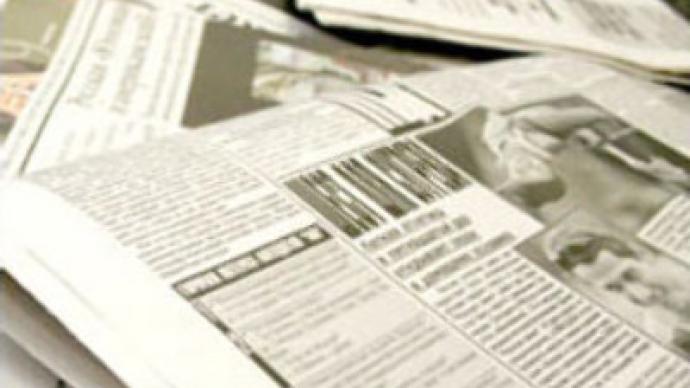 The latest Russia's Cabinet meeting is the focus of the press this Friday.
ROSSIYSKAYA GAZETAwrites under the headline "No One Was Spared": all "Acting" Ministers got a chance to start thinking about their future. The Prime Minister not only sent a high official off to Sakhalin but also made reprimands about the work of practically everyone.
VREMYA NOVOSTEI says after the meeting the officials were grinning nervously in the corridors and corners, discussing the tough manner of the new boss. Viktor Zubkov, continues the paper, does not like to waste time. It was necessary for him to show his toughness before this "acting" Cabinet, to set the standard for the near future.
IZVESTIA says the only lucky member of the Cabinet, who was not directly hit by the Prime Minister's remarks, was acting Minister of Finance Alexey Kudrin. He delivered a report on the ongoing struggle against corruption.
KOMSOMOLSKAYA PRAVDA:"Who dares to correct the President!?" That is about the 2006 Presidential order creating a unified system of administration for all Russian seaports. The system was supposed to be in place by December that year. But it was not, writes the paper. And someone had changed the date of delivery on the project to 2008.
NEZAVISIMAYA GAZETA writes, after the meeting acting Minister of Transport Igor Levitin explained to the journalists: the change of date happened when it became clear that a separate law on seaport administration was necessary. The delay pending the adoption of the law by the Duma was approved by the President's executive office.
MOSKOVSKIY KOMSOMOLETS writes, judging by the first Cabinet meeting, Prime Minister Zubkov is going to introduce a style of governance that includes tough populist policies and fierce well-publicised battles against corruption.
IZVESTIA also describes the explosion of one more political bomb in Ukraine. The paper quotes an hour-long media briefing by Deputy General Prosecutor, Inna Bogoslovskaya. The Prosecutor accuses politician Yulia Timoshenko of having evaded, by the use of political and business connections, at least five criminal cases filed against her at various stages of her career. Yulia's alleged crimes include running a video lounge that showed soft porn, illegal hard currency operations, smuggling, using government posts for personal monetary gain and others. Yulia Timoshenko, writes the paper, is one of the most likely candidates for the post of Prime Minister in the coming Ukrainian election.
You can share this story on social media: