The Media Mirror – Today's Russian press review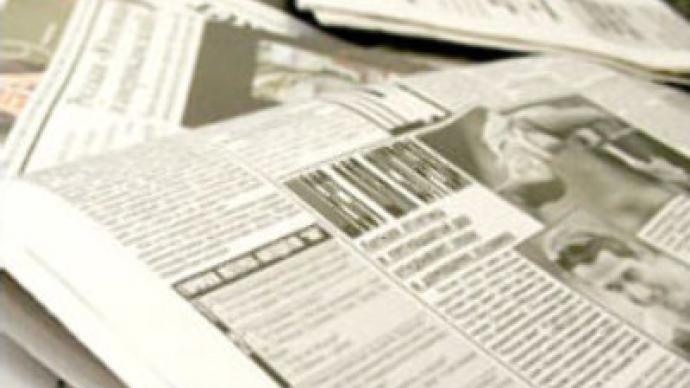 Today hogging the front page of Russian papers is the media briefing of Andrey Lugovoy and Dmitry Kovtun on the Litvinenko case, which may – or may not – have a bearing on the Politkovskaya case.
It seems the media briefing of Andrey Lugovoy and Dmitry Kovtun is the sensation of the day. Every paper in town has a transcript. Every transcript is supplied with an editorial or an authored introduction.
Izvestia quotes Lugovoy saying that there is no proof whatsoever of his involvement in the Litvinenko murder. At least, nobody has seen any evidence so far. The paper continues to say that in the Litvinenko case presumption of innocence has been totally forgotten. The headline reads: Prove you're not polonium.
Nezavisimaya Gazeta says that nothing new has happened in the case. Just like 3 months ago, Lugovoy denied his involvement and called the criminal case against him a set-up that lacks evidence.
Vremya Novostey starts its report with the accusations aimed by Lugovoy at the exiled business tycoon and self-styled politician Boris Berezovsky. In Lugovoy's opinion, Berezovsky is responsible for the hired killings of Alexander Litvinenko, journalists Vlad Listiev and Anna Politkovskaya, and two members of State Duma and Parliament. In conclusion the article says, nothing actually new was presented to the British and Russian media at the press-conference.
What I would call the sensation of the day hasn't been picked up yet. There is an editorial article in just one newspaper. It's on the murder case of Anna Politkovskaya.
Novaya Gazeta writes: There has been an announcement that the crime has been solved. This is not so. First, not all the criminals involved in the case have been arrested. Secondly, the guilt of those arrested still has to be proved. Thirdly, the mastermind question stays open.
Politkovskaya worked for Novaya Gazeta newspaper. From the day of her death the paper has been conducting its own investigation in close cooperation with the official team. But as the General Prosecutor's Office has recently announced detailed results, after ten months of total silence the paper decided to come clean about its own conclusions in the current issue.
Having explained this, the editorial goes on to say that every one of the 11 arrested suspects was prominent in the paper's own investigation. But the problem is, writes the paper, that there were more. The crooked law enforcement officers as well as the civilian criminals among the 11 have wide connections. The article says, many more, and higher standing people may be involved.
The paper considers the announcement of the names of the 11 premature. The editorial says it gives their still unnamed accomplices an opportunity to hide from the law.
You can share this story on social media: