The Georgian war – minute by minute, August 10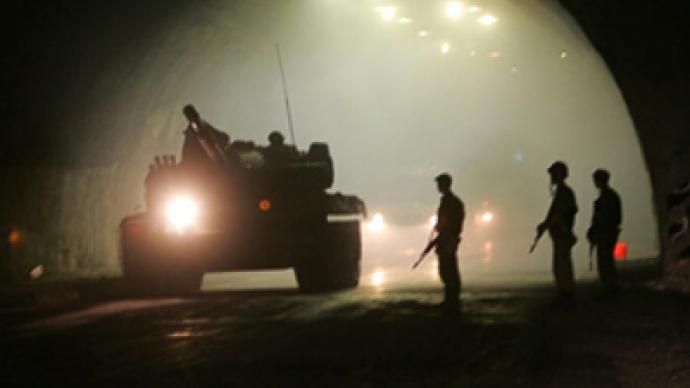 23:26 – Georgia-sponsored 'government of Abkhazia in exile' reports shelling of Kodori gorge by Russian military.
20:23 GMT – EU allocates one million euros of humanitarian aid for South Ossetian conflict victims.
19:28 GMT – Russia sends troops to Abkhazia – peacekeepers' deputy commander.
19:17 GMT – French and Finnish Foreign Ministers arrive in Tbilisi to mediate peace deal.
18:20 GMT – Georgian rocket boat destroyed while attacking Russian Navy ship in Black Sea.
18:01 GMT – Russian citizens not allowed to leave Georgia – relatives' reports.
17:46 GMT – Abkhazian official claims Georgian commando wounded two Abkhazian soldiers.
17:43 GMT – Man who gave criminal orders cannot be treated as partner – Russian FM, Sergey Lavrov
17:33 GMT – UN Security Council again discusses the situation in South Ossetia.
17:29 GMT – 20,000-strong rally gathers in Tbilisi to support Georgian troops.
17:00 GMT – Georgian troops retreat from Tskhinvali – Saakashvili.
16:43 GMT – Medvedev calls for unconditional withdrawal of Georgian troops from South Ossetia.
15:52 GMT – Russian combat planes bomb runways of Georgian military air bases – Defence Ministry source tells RIA Novosti news agency.
15:27 GMT – Georgian troops start arriving back from Iraq.
15:22 GMT – Two journalists reported dead in South Ossetia.
15:02 GMT – Georgia continues shelling South Ossetia despite announcing ceasefire – Russian Foreign Ministry.
14:54 GMT – Israeli Foreign Ministry suggests banning sale of arms to Georgia.
14:25 GMT – Bodies of Georgian soldiers killed in South Ossetia to be handed over to Georgian side – South Ossetian officials
14:12 GMT – Foreigner evacuees from Georgia arrive in Armenia.
14:32 GMT – Tbilisi says it has sent a note to the Russian embassy announcing Georgia's decision to end hostilities.
13:20 GMT – Prime Minister Vladimir Putin briefs President Medvedev on the latest developments in South Ossetia. Medvedev orders the military prosecutor's office to document crimes committed against the civilian population in South Ossetia.
12:55 GMT – Russia's Emergency Situations Minister, Sergey Shoigu, says Russia plans to send a humanitarian aid convoy from Russia's North Ossetian city of Vladikavkaz to Tskhinvali – Ria Novosti reports.
11:20 GMT – Russian Deputy Foreign Minister, Grigory Karasin, says talks with Georgia will only be possible after a ceasefire deal. The diplomat told the press more than 2,000 people have died over four days of fighting.
10:40 GMT – Deputy Head of the General Staff, Anatoly Nogovitsyn, tells a media conference that Moscow rejects Washington's analysis of the conflict in South Ossetia
08:54 GMT – Russian PM Vladimir Putin says the Russian government is planning to spend $10 billion rubles ($US 420 million) on aid to South Ossetia.
08:14 GMT – EU's 27 Foreign Ministers to hold an emergency meeting early next week to discuss ways of stopping the conflict – Ria Novosti reports.
07:43 GMT – Russian peacekeepers deny Georgian troops have left the conflict zone.
06:17 GMT – Georgia claims its troops have completely left the territory of South Ossetia.
05:30 GMT – Russia will address the Hague Tribunal and Strasbourg International Court over the 'murder' of Russian peace keepers in South Ossetia.
You can share this story on social media: