The federal budget draft passed in the 3rd reading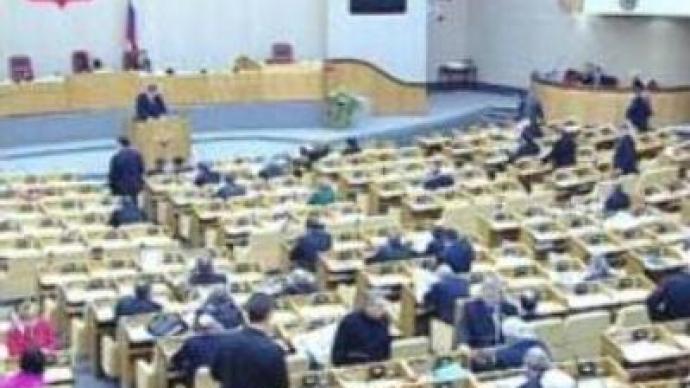 Russia's lower house of parliament, the State Duma, has passed the draft federal budget for 2007 in its third reading. With 226 votes required for approval of the country's main financial document 341 deputies have voted in favor of the budget draft for 2
Vladimir Pekhtin, State Duma Vice-Speaker:
"The amendments of the third reading are amendments that provide modernization of transportation plans – increased spending on roads, on building airports, on electrical energy subsidies, on the development of railway infrastructure. Basically, all of the main amendments of the third reading are amendments directed at the national economy".
Sergey Glazyev, State Duma Deputy:
"Next year the whole budget surplus that will total one and a half billion rubles, will result from the fact that the healthcare system will be financed two times less by our state. It's two times less than the minimum limit approved by the World Health Organization. The educational sphere will also be financed two times less in comparison with the average world level. We spend three times less money on science than other developed countries do, and four times less for culture. It means if the expenses for the social services are brought in line with the average world level, we would have no surplus and the budged would be balanced."
Arkadiy Dvorkovich, the chief of the Russian President's Expertise Department, comments on the budget project 2007 and on the procedure it will face, being passed through State Duma Deputies.
"It is not a final version. We will have 4th reading as the final version. In the 3rd reading we define all budget items figure by figure for all purposes. The final reading is about the text of the budget. So, all policy items will be included in the firth reading and it is equally important as the third reading. Then the budget will go to the upper chamber of the Parliament – Federation Council and then for the presidential signature"
– he said.
"On one hand, these are investments in the human capital – health and education, in particular. These locations are in the context of priority of national projects, which will be spent for higher salaries of teachers and doctors, for the construction of new hospitals and for new equipment for hospitals and schools, for innovation program of leading Russian Universities. Investment in Human capital is strongest part of this budget"
– he continues.
You can share this story on social media: