Arrests at Thatcher death celebrations as shop windows smashed, police injured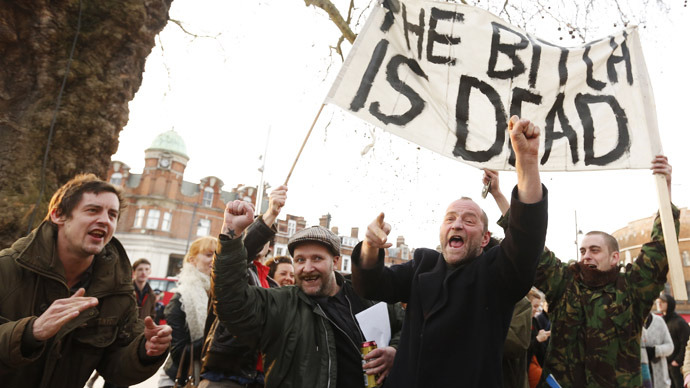 Hundreds have taken to the streets in British cities to celebrate the death of former UK Prime Minister Margaret Thatcher, injuring six police. Shop windows were smashed and paint bombs thrown.
Margaret Thatcher's death on Monday at the age of 87 led some mourners to shower her former Belgravia home with flowers. However, the announcement of her death also sparked street demonstrations, from 5pm onwards, continuing throughout the night and well into Tuesday.

The 'Thatcher Death Parties' which graced south London led to the arrests of two women who were held under suspicion of looting a shop. A Barnardos charity shop window was smashed, and riot police were dispatched to cope with the problems.

Around 200 people gathered around the Ritzy Cinema in Brixton which bore banners and rearranged listings-letters, reading  'Margaret Thatchers [sic] dead lol'.

The crowd was heard to chant "Maggie, Maggie, Maggie, dead, dead, dead." Others shouted: "Free milk for all." A smoke bomb was reportedly set off.

Some form of 'missiles' were also thrown during the carnival-like protests, the Metropolitan said.

"Even if you detested her policies, many of which I did, it is tasteless posturing," Lambeth counciller Alex Bigham, told the Telegraph.  

"Well I hope the idiots who told me they were off down Brixton High Street for the sake of the community [sic] are proud of the fact that they smashed the windows of Barnardo's the Children's charity, but left Foxtons, the banks and McDonalds in tact," said one woman on the Brixton party's facebook.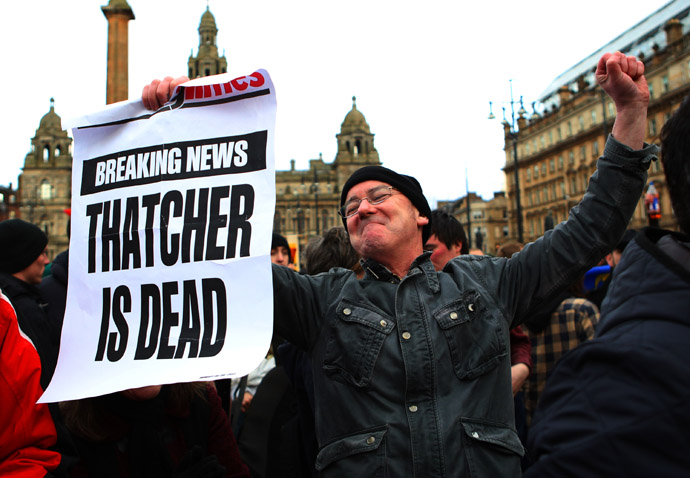 The protests weren't, however, confined to London. Street parties were also held in Bristol, Glasgow, Liverpool and Derry.
In Bristol, six police officers were injured and one was taken to hospital. A person was arrested for violent disorder as protesters threw cans and bottles at police and a police vehicle was reportedly damaged.  
Margaret Thatcher's death was also toasted in Glasgow, Scotland, where some 300 people gathered. The area bore witness to poll-tax protests in 1989. Additionally, a campaign has been instigated make 'Ding Dong! The Witch is Dead' the number one single in the UK music charts.
The 'Iron Lady' posed a controversial figure in British politics, with some declaring that she saved Britain's economy, leading Obama to label her a champion of freedom and liberty. However, her privatization drive instigated great opposition from the left, who mainly remember the closure of coal mines, the weakening of trade unions, and the Falklands war.
She died of a stroke on Monday in the Ritz Hotel, following a drawn-out period of illness and suffering from dementia, and had reportedly suffered small strokes throughout.
The former Prime Minister's funeral has been arranged for Wednesday, 17 April at St Paul's Cathedral. The Queen and Duke of Edinburgh are both expected to attend.