Tension escalates in Persian Gulf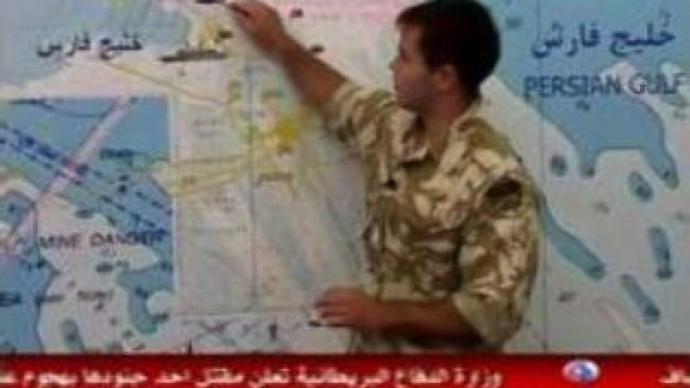 Two British servicemen, captured by Iran for allegedly trespassing into Iranian waters, have been shown on Iranian television. They are seen pointing to a map and appear to be apologising for incursion across the ill-defined border.
The British sailors and marines were detained almost a fortnight ago while on an anti-smuggling patrol in the Persian Gulf. The capture has brought criticism of Iran around the globe.
Inside the country hundreds of students have been protesting in the streets of Tehran demanding the expulsion of the British Ambassador. The British government says it is negotiating the release of the detained crew, although there is no news of progress.
After the detention of the 15 British Navy personnel in disputed waters, and another round of UN sanctions against Iran, the situation in the region has come precipitously close to military confrontation.
The U.S. Navy launched the largest war-game operation since the invasion of Iraq. Washington believes that only persistent and patient pressure will force Iran to turn down from its nuclear ambitions, considering the military option as the last resort.
Tehran reiterated that it will not abandon its nuclear programme.
"The Persian Gulf today is in such an agitated state that any action in this region, especially one that involves the navy or other military forces, must take into account the need not to aggravate the situation even more. It is already unstable,"
said Sergey Lavrov, Russian Foreign Minister.
You can share this story on social media: