Tehran denies payment delays to Russia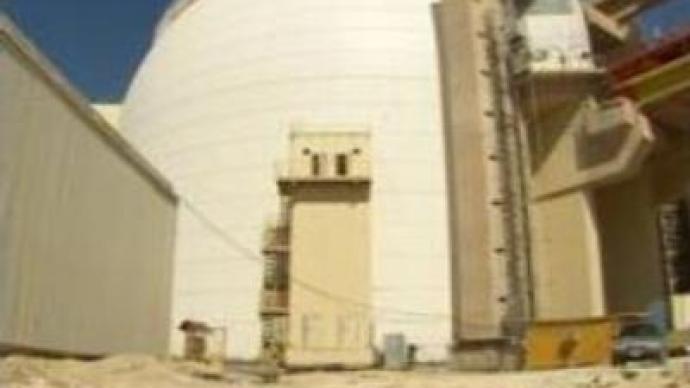 Moscow has said the launch of the nuclear reactor in Iranian Bushehr could be delayed because of missed payments. For its part, Tehran has accused Moscow of using tactics to delay uranium fuel deliveries and the opening of the facility.
The setback comes just ahead of a report by the UN's nuclear watchdog that could expose Tehran to broader sanctions over its nuclear programme. The International Atomic Energy Agency's brief is expected to confirm that Tehran has defied a 60-day deadline to stop enriching uranium.According to the Iranian leadership, there have been no financial hold-ups and claims it has kept to the terms of a contract with Russia. Tehran says it expected Russia to prevent attempts to deny Iran's nuclear rights, rather than delay construction.Deputy Director of Iran's Atomic Energy Agency Mohammad Saidi said payments are being made under the contract and according to schedule, and works at the nuclear plant are going well.Vladimir Pavlov, the head of "Atomstroyexport" – the firm building the site, says they are hoping to solve the problem as soon as possible.
"Construction works at the Bushehr site have not stopped, they're continuing. But the project is having some problems right now, some of which are financial. The financing has not been full-scale, especially in the last 2 months. For over a month we have not paid our suppliers or contractors working on the project, because we are not getting the money. But we are working closely with our Iranian partners all the time and are hoping to resolve the situation as soon as we can. Another problem that's also affecting the project is the issue of Iran's nuclear programme which makes supplies from the European countries to Iran impossible. So of course this is also affecting the terms of fulfilling the scheme, because we have to find other ways round to deal with this,"
he said. According to a source in Rosatom (Russian Atomic Agency), an Iranian delegation will visit the Russian capital later this month to discuss the construction of the Bushehr plant. Russia signed a deal to build the Busherh nuclear power plant – Iran's first – back in 1995. The $US 1 BLN project was supposed to be completed at the end of last year but delays saw that date moved back late 2007. And now it looks as if this target will not be met. Sergey Novikov from Russia's Federal Nuclear Power Agency says the delay could derail the scheduled launch.
"We can confirm that the Iranian side hasn't made any payments for the Bushehr nuclear project for about a month. I think that we will have to make some adjustments to the schedule of the construction, but I cannot put any precise dates now. As it was mentioned in the paper of September, 2006, the physical start-up was planned for September of 2007 and the power start-up, for November of 2007. But now it will depend on negotiations with the Iranian side,
" he commentd. "Atomstroyexport" says the problems lie with an Iranian demand for "a currency swap in the deal" from US dollars to euros. There are also delays in the supplies of cooling equipment. Vladimir Sotnikov from the Institute of World Economy and International Relations in Moscow says he believes the delay has both an economic and political explanation:
"In fact, delays in payment occurred before, this is not a new problem. I think Iran is trying to put some pressure on Russia ahead of the consideration of its nuclear dossier in the U.S. Security Council. Still, I believe that the two countries will settle the issue in the near future. This is a question of negotiations."
You can share this story on social media: