Afghanistan invites Taliban to 'direct' talks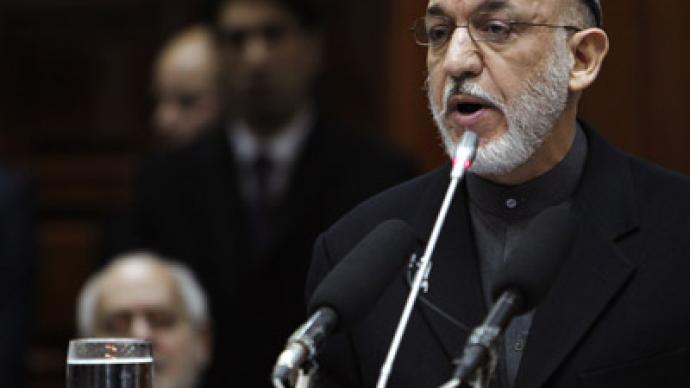 Afghan President Hamid Karzai has officially opened the door to direct negotiations with the Taliban. In a letter signed by Karzai, the Taliban are urged to "to engage in direct talks with the Afghan government."
­The Taliban have denied talks with Kabul would ever be possible, as the militants doubt the Afghan government has any political weight in the country compared to Washington's influence. After opening their headquarters in Qatar in January, the Taliban said they were ready for talks with the USA "as the real regional power."

Nonetheless, in mid-February Karzai declared communication between his government and the Taliban was ongoing.

"We talk to the Taliban every day," Karzai told Australia's SBS television. "I mean not directly, person to person, but through intermediaries, yes."

In a statement on Tuesday, President Karzai also called on Pakistan to facilitate the talks with the Taliban.

But the Pakistani foreign minister, Hina Rabbani Khar, says it is "preposterous" to think that Pakistan could deliver Taliban chief Mullah Omar to the negotiating table. Last week Karzai upset Islamabad by asking for access to Afghan Taliban leaders from Quetta Shura, a Taliban council located in Pakistan, the existence of which Islamabad denies.

Now that the USA and NATO are racing to hand over all security responsibilities to the Afghan government before the end of 2014, Kabul is willing to include the Taliban in the national power structure rather than fight it. A full inclusion, given the history, is off the table.

"I don't think the Taliban will ever come back to take Afghanistan, no," Karzai said. "The Afghan people will not go back to the nothing of ten years ago."

The Taliban seized Afghanistan in 1996 in the course of a civil war which followed the withdrawal of Soviet troops. The militant group ruled the country till 2001 under an extremely harsh implementation of Islamic laws. When American and allied forces toppled the Taliban regime in Afghanistan, the group resorted to a guerrilla war, still continuing. The UN estimates the insurgents were responsible for 75 percent of Afghan civilian casualties in 2010 and 80 percent in 2011.