Taliban human shields used to counter NATO airstrikes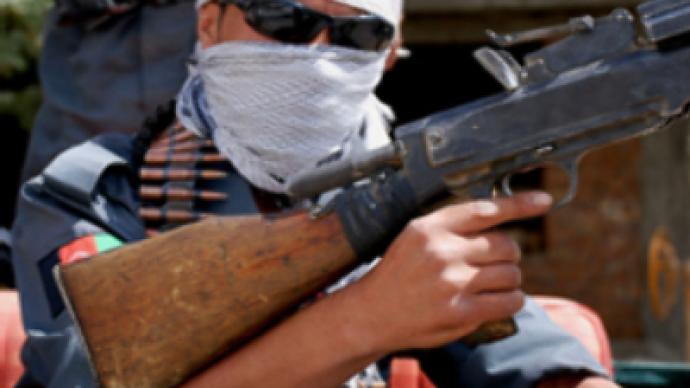 The Taliban's alleged use of civilians as human shields during combat makes it difficult for coalition forces to prevent civilian casualties. NATO hopes that additional troops on the ground will reduce air strikes.
While a wedding was being celebrated in the village of Wech Baghtu in the Shah Wali Kot district, insurgents ambushed an Afghan National Security-Coalition forces patrol. The patrol was taking fire from the high ground, and was separated from its relief unit by an improvised road block. Close air support was called in to suppress enemy fire.
In a key leader engagement between Afghan government officials, the ANSF, coalition forces and village elders of Wech Baghtu, it was confirmed that insurgents had moved down a mountain and fired on the coalition forces from the roofs of villagers' homes in an attempt to use villagers as human shields. One villager reported that insurgents prevented the families from leaving the village, indicating a deliberate attempt to cause civilian casualties.
NATO reports confirmed nine insurgents were killed. No ANSF or coalition forces casualties were reported.
During a joint press conference held by the Afghan Ministry of Defense, NATO and the United States military on November 12, MOD spokesperson Gen. Mohamad Zahir Azimi stated: "Afghanistan is clearly the victim of terrorism. The enemy is using soft targets and creating fear amongst the people. It also shows that the insurgents are incapable of fighting our forces."
In the past NATO had insisted that it would conduct the war differently from the Americans and that there would be fewer civilian casualties.
In response to the question whether NATO is working on ways to limit air strikes and to use more troops on the ground, NATO spokesperson Brig.-Gen. Richard Blanchette said there is always the risk of civilian casualties when the Taliban use people as human shields.
"This is part of our challenge," Brigadier-General Blanchette said. "We want our commanders to use the right type of weapons and we are striving to implement a culture of a safe user force. The Taliban are vicious cowards and hiding behind women and children is not going to work for them. We are confident in the judgment of our commanders in the field. They are going through the scenarios so that all commandos understand what to do."
US military spokesperson Col. Greg Julian said they value the lives of Afghans and are doing everything to avoid casualties and deaths.
"We will now use air strikes as a last resort. We are asking for additional troops which will reduce air strikes. More troops will also help increase the size of the Afghan National Army and the Afghan National Police."
Referring to the Shah Wali Kot air strike, Colonel Julian stated that the insurgency had caused the civilian casualties. "We had no idea of the wedding party, but the insurgency knew about this" he said.
Afghan government officials, and Afghan National Security force and Coalition force officials visited the families of victims of the Shah Wali Kot air strike at a hospital in Kandahar city. During the hospital visit, condolence payments were distributed to victims and their families.
"We don't give out the figures of the condolence payments, because publicity can cause people of ill will to take advantage of this," the United States military stated. "To our knowledge the insurgents have done nothing for the victims and their families."
In a telephone interview with RT, Taliban spokesperson, Qari Yusuf Ahmadi, said there were no Taliban militants in Wech Baghtu village attacking coalition forces.
"We definitely ambushed foreign forces on November 3," Mr. Ahmadi said. "But in the Chinartu area of Shrinak, which is located between Kandahar and Tarinkot city, the provincial capital of Urozgan. This area is almost one hour away from the site of the wedding party incident. During our ambush that day, the Taliban killed several troops. One of our men was killed and two injured. After the ambush, the Taliban militants left the site and then the foreign bombers started bombing that area and continued toward Wech Baghtu village, where the wedding party was being held. When the foreign troops saw a crowd of people they must have thought they were Taliban militants, but they were in fact civilians celebrating a wedding."
According to Mr. Ahmadi NATO cannot blame the Taliban for the Shah Wali Kot casualties. "It was their mistake. We have experienced many of these air strikes in places such as Azizabad, Jalalabad, Konar and Herat."
The Taliban spokesperson also said foreign troops are here to carry out their crusader wars. "We never use civilians as human shields, because the people are ours and they support us," he said.
Regarding condolence payments to the families of victims, Mr. Ahmadi said the Taliban believes there is no price for human blood, because it is more valuable than money. "But the foreign forces do and they pay 50,000 to 100,000 afghani for the death of a person," he said.
"If the Taliban kills anyone by mistake, there are Islamic rules to deal with this. We follow the Islamic Shariah (law), which asks for Qasas (religiously sanctioned slitting of human throats), or beg for forgiveness from the relatives of victims," Mr. Ahmadi said.
NATO is confident that a resurgence of the Taliban is not happening.
"They use spectacular tactics which have been negatively received by the people of Afghanistan and the international community," Brigadier-General Blanchette said.
NATO's tactical directive is to widen and encompass all happenings in this country.
"Our soldiers must be ready for all situations. We have to protect civilian lives. NATO takes allegations of civilian casualties very seriously and we keep track of it," Brigadier-General Blanchette said.
Lizette Potgieter for RT from Kabul, Afganistan
You can share this story on social media: