'Newborn of revolution': Woman gives birth at gigantic Tahrir Square protest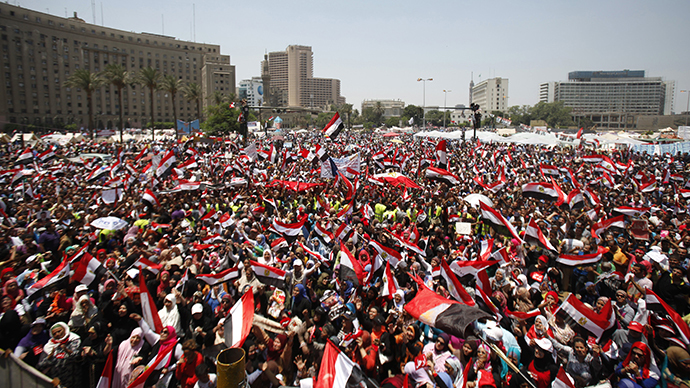 An Egyptian woman delivered a baby at Tahrir Square, during a multi-million-strong anti-government rally, described as biggest in the country's history. The newborn girl was named Tamarod (Rebellion) after the opposition group behind the unrest.
Tamarod Mohammed was born in Tahrir Square on June 30, the first anniversary of Morsi's inauguration and also the day the opposition chose for its massive rally. The baby girl's mother, who came to join the anti-Morsi rally, was assisted by a doctor working for a field hospital at the rally camp.

The Tamarod opposition group, which initiated the demonstration hailed the birth of a baby girl named in its honor.

"May God bless with this newborn of the revolution, who is a good sign that the regime will fall," the opposition group's official website said, as cited by Gulf News.

Millions of Egyptians across the country joined the protest on Sunday, calling for the president and the ruling Muslim Brotherhood party to resign. The Tamarod movement claims it has gathered more than 22 million signatures, demanding Morsi's stepping down. The figure greatly exceeds the number of those who voted for the president a year ago, which was 13.2 million.

It's estimated the number of anti-government protesters exceeds the figures of two years ago, when Hosni Mubarak was ousted from the presidency following similar unrest.

Sixteen people were killed in violent clashes overnight, according to the Health Ministry. At least two people died during violence outside the Muslim Brotherhood's headquarters in Cairo. Five others were shot in the cities to the south of Cairo, one in Beni Suef, another in Fayoum and three more in Assiut. At least 600 were injured across the country.

Protesters continue camping out on the Tahrir Square, saying they will only leave after Morsi steps down. Tamarod has even issued a deadline for that - Tuesday at 5pm – promising more civil disobedience will follow in case it's not met.

Check RT's Live Updates from Egypt for more on the protests.