Syrian refugee camp under air attack, eight dead – activist reports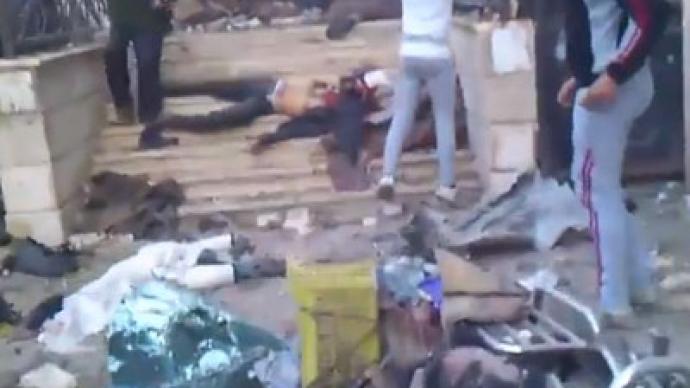 Syrian warplanes have attacked a Palestinian refugee camp close to Syria's capital city, Damascus, killing eight, activists report. The camp not only hosts Palestinians, but also Syrians displaced by the country's ongoing conflict.
The UK-based Syrian Observatory for Human Rights said that at least eight people died when at least one rocket struck a mosque that houses refugees who had fled from the fighting in Damascus. "Warplanes staged an air strike on an area near Al-Bassel hospital… in al-Yarmuk camp, hurting several people," said the Observatory. They added that "the toll may rise, because several of the injured are in a critical condition."A video allegedly filmed by a witness shows several dead bodies sprawled in what appears to be a mosque yard in al-Yarmouk. The surrounding streets were covered with shattered glass and blood stains. The video was uploaded to youtube by QudsNetwork, a Palestinian news outlet, but cannot be independently verified.Al-Watan daily reports the area erupted in violence Sunday as government troops clashed with opposition forces. The edition says Palestinian self-defense forces support pro-Assad fighters. Other sources insist Palestinians are divided over the conflict and can be found fighting on both sides.Al-Yarmouk is the largest Palestinian refugee camp in Syria and is located in a strategic region to the south of Damascus, where government forces have been attempting to push back rebel fighters for the past couple of weeks. In August, there were reports that a mortat attack killed at least 20 people in a shopping area there.In the wake of the reports, Palestinian president Mahmud Abbas appealed on Sunday for an "immediate" halt to firing on Palestinian refugee camps in Syria."We call on the warring sides in Syria to spare the Palestinian people and their camps in Syria," he said as quoted by the official Palestinian news agency WAFA.Over 500,000 Palestinians live in Syria which has been going through a harsh civil conflict since March 2011. Over 32,000 people have died in clashes between opposition and government troops, with a further 420,000 becoming refugees in what is widely viewed as an uprising against Syrian President Bashar Assad. Syrian state media, however, maintain that Damascus continues to "cleanse" what they have branded as "terrorists" from the region.In other developments, Hezbollah leader Hassan Nasrallah declared Sunday that the struggle within Syria is not Assad's government cracking down on its own people, but that the opposition, which is funded from abroad, is committed to a military confrontation and rejects any dialogue."The battle is not at all between the regime and its people. There is a division. A segment of the population supports the regime and another supports the opposition which has taken up arms and is being aided by regional forces and there is an armed confrontation," Nasrallah said as cited by Lebanon's Naharnet."The battle is far from over in Syria because the armed opposition is rejecting any dialogue with the regime, which will bring further violence and bloodshed," he added.Hezbollah has been accused by the Syrian opposition of sending fighters to Syria to help Assad, but the group denies these allegations.