Syrian NGOs: A dual-use technology?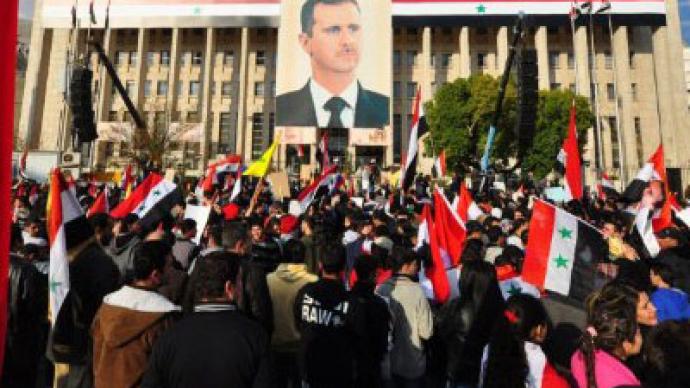 Syrian NGOs have often been the sole source of information for the Western media when it comes to reporting alleged atrocities within the country. Why is it then that so many of these NGO are either funded or based entirely in the West?
While the Syrian Observatory for Human Rights is at the forefront of those reporting violations allegedly committed by President Bashar al-Assad's regime, few would realize the group operates entirely out of London, Infowars reports. Although little is known about the group's membership or from whom they receive funding, Reuters photographed the NGO's head Rami Abdelrahman leaving the Foreign and Commonwealth Office after meeting with the British foreign secretary, William Hague, on November 21.And in an August article by Democracy Digest – the US National Endowment for Democracy's journal – the Syrian Observatory for Human Rights issued a joint statement with the Syrian Human Rights Organization and the Damascus Center for Human Rights Studies calling on several BRICS nations to support a UN resolution condemning "the government's use of violence against peaceful protesters."The Damascus Center for Human Rights, which is engaged in a direct partnership with the US National Endowment for Democracy, has also provided many of the unverified casualty figures and eyewitness accounts to the Western media as the drive to topple Assad continues.  Prior to the arrival of 50 Arab League monitors on Monday, no foreign observers had been allowed into Syria since violence first erupted back in March.  The Syrian government's ban on foreign journalists has actually played into the hands of Western-backed activists, as outside observers have increasingly sought to construct the media narrative regarding Syria amid calls for regime change.   In fact, the United States' role in funding those segments of the Syrian opposition which have been so critical of the Assad regime can be traced back to a Bush administration which increasingly threatened Damascus over its policy on Israel.    In April, WikiLeaks released a diplomatic cable showing the US has been actively funding the Syrian opposition since as early as 2005.The cable also revealed the US State Department has given as much as $6 million since 2006 to help a group of Syrian exiles operate a London-based satellite channel called Barada TV, Reuters reports. According to a top-ranking US diplomat, Damascus "would undoubtedly view any US funds going to illegal political groups as tantamount to supporting regime change," the agency says.  Furthermore, Asia Times reports that the more recent training of Syrian activists has served the dual purpose of supporting "the armed, militarized insurrection – as well as peaceful pro-democracy protest movements."  It is this dual purpose that has both served to destabilize Syria internally while preparing the international court of opinion for a Libyan-style military intervention.While the United Nations says more than 5,000 people have been killed in a little over nine months of conflict, Syrian authorities counter that more than 2,000 soldiers and security force members have lost their lives.
You can share this story on social media: