'Happy Birthday Mark!' Syrian Electronic Army hacks into Facebook's domain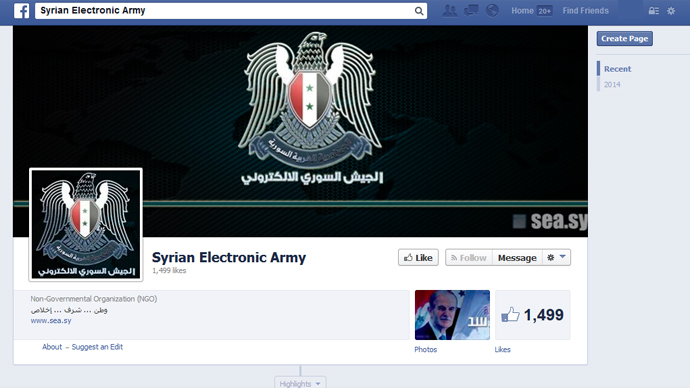 The Syrian Electronic Army - a hacker group supportive of Syrian President Bashar Assad - claimed Wednesday that it managed to hack into Facebook, just in time for the social network's tenth anniversary.
The hackers first claimed to subvert Facebook.com in a tweet published at approximately 6:30 EST. A cursory search of the WHOIS domain registrar indicated that the email address tied to Facebook had indeed been changed to a Syrian gmail account.
Happy Birthday Mark! http://t.co/yWBwvXPGRZ owned by #SEAhttp://t.co/gk8nGxATLtpic.twitter.com/eAeGp1TvBF

— SyrianElectronicArmy (@Official_SEA16) February 5, 2014
The SEA claimed it was able to change Facebook's servers but the process had to be abandoned because it was "taking too much time." The alleged hack did not impact Facebook's operations.
Half an hour after the SEA tweet, the domain name returned to domain@fb.com, indicating that Facebook and MarkMonitor - a domain management firm - had rectified the error and prevented any serious impact.
MarkMonitor took down the management portal after it was hacked by the Syrian Electronic Army #SEApic.twitter.com/FSsAFZAwoz

— SyrianElectronicArmy (@Official_SEA16) February 5, 2014
In August 2013, amid US consideration that it would join the ongoing Syrian civil war and attempt to remove Assad from power, the SEA hacked The Huffington Post, The New York Times, and other news entities the hackers perceived to be hostile towards Assad.
You can share this story on social media: