UN, Syria hold 'productive' chemical arms talks as US ponders political solution
The Syrian government and the UN delegation investigating the alleged use of chemical weapons in the country's civil war said on Saturday that they took part in "productive" negotiations. Meanwhile, the US is urging a political solution to the crisis.
After meeting with Syria's deputy Prime Minister and Foreign Minister in Damascus, the UN delegation said in a Saturday statement that the "discussions were thorough and productive and led to an agreement on the way forward." The statement did not specify whether UN inspectors would be allowed into Syria.

In turn, the Syrian Foreign Ministry said the discussions were "comprehensive and fruitful and led to an agreement on the means of moving forward," as quoted by Syrian state news agency SANA.

Although some authorities within the US continue to calculate the expenses of solving the Syrian conflict militarily, the general tone of the voices coming from Washington is changing.

The US military recently concluded that 100 per cent seizure of Syria's chemical weapons cannot be guaranteed even with the thousands of special operations forces on the ground that would be needed "to assault and secure critical sites," Joint Chiefs of Staff Chairman Gen. Martin Dempsey wrote in a July 19 letter to the chairman of the Senate Armed Services Committee. "The impact would be the control of some, but not all chemical weapons," he added.

"At a minimum, this option would call for a no-fly zone as well as air and missile strikes involving hundreds of aircraft, ships, submarines, and other enablers," Dempsey acknowledged.

"Thousands of special operations forces and other ground forces would be needed to assault and secure critical sites...costs could also average well over one billion dollars per month," he wrote.

In an interview with Defense One, Gary Samore - who worked on the Syrian chemical weapons issue as White House coordinator for arms control and weapons of mass destruction – said "it would be a huge, complicated undertaking in which all kinds of things could go wrong."

Meanwhile, former Deputy Commander of the US European Command, Charles Wald, told America's National Journal that he didn't know "if it would be a campaign, but it would be a very sophisticated, multi-service operation." The mission would involve knocking out Syrian air defenses.

The US government is not exactly sure of the whereabouts of chemical weapons, because Syria has been relocating military warehouses due to terrorist threats.

Syria's chemical arsenal allegedly includes different types of chemical agents such as sarin, mustard gas, and VX nerve agent. Some are reportedly ready for use and stored in many different locations.

Because Syria spent billions on multi-layered air defense, a no-fly zone over the country could only be established at a high price. Without doing so, special operations forces would have to arrive at chemical weapons stockpiles on foot.

The same would apply to 4,000 troops of the US Army's famed 82nd Airborne Division which recently trained to seize chemical weapons in Syria, CBS News reported.

Old-fashioned bombings of hypothetical chemical weapons warehouses are a bad idea too, according to specialists.

"I know that they have looked at chemical defeat munitions that would incinerate weapons stockpiles and I have not heard a great deal of enthusiasm on that topic," GlobalSecurity.org director John Pike told America's National Journal. Blown up chemical munitions could end up spreading around and affecting the civilian population, a congressional expert told Defense One.  

On top of it all, the US army would have to either evacuate the seized chemical weapons back home or bring special equipment to destroy the weapons on site. Regardless of the financial cost, the operation looks unlikely since the US has so far failed to destroy its own chemical stockpiles which it is obliged to do in accordance with international agreements.

All in all, a military solution for the Syrian crisis "is a military operation which I think our military hopes they never have to carry out," Gary Samore said.


'A political solution requires leadership to start talks'

The House and Senate Intelligence Committees have recently given a green light to arm Syrian rebels. Despite the congressional approval, US Secretary of State John Kerry declared on Thursday that there is no military solution to the Syrian Crisis.

"There is no military solution to Syria. There is only a political solution, and that will require leadership in order to bring people to the table," John Kerry said. The statement would not have been expected to come from the Obama administration just a few short months ago.

The Syrian opposition, which failed to gain success on the battlefield and was refused weapons supplies from NATO member states, has also displayed previously unseen open-mindedness.

"In principle nobody is against Geneva-2, but we cannot enter into talks while the regime continues to kill hundreds every day and use arms of mass destruction," Burhan Ghalioun, a senior Syrian National Coalition member, told AFP.

"The Syrian opposition committed that they believed Geneva-2 is very important and they agreed to work over the course of the next couple of weeks to pinpoint the terms, the conditions under which they think it could work," Kerry said following his meeting with the leadership of the Syrian National Coalition.

"There are still obstacles that need to be overcome for the Geneva-2 conference to take place," Russia's UN envoy Vitaly Churkin announced on Friday, citing disagreements within the Syrian opposition camp. Still, the Geneva-2 conference "has good chances to convene" in order to get the Syrian opposition and President Bashar Assad's representatives to the negotiating table simply because "the alternatives are too horrifying," Churkin explained.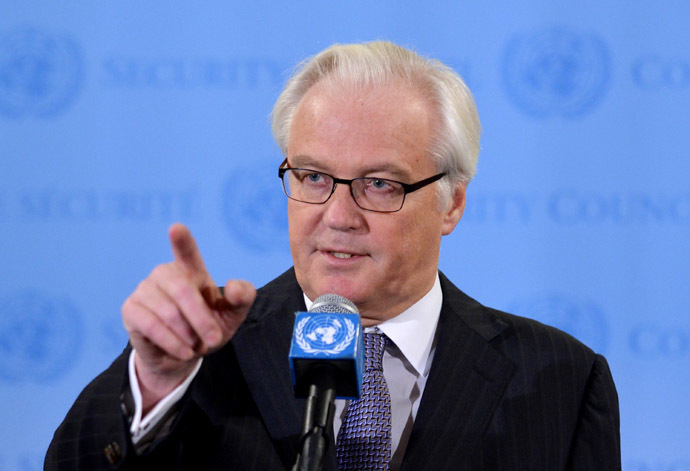 The two year civil war between the Syrian government and opposition rebels has claimed more than 100,000 lives, according to UN estimates. The ongoing violence, which has raged since March 2011, has forced millions to flee their homes. Many worry the uprising will spill over into a broader regional conflict as it threatens to destabilize neighboring Jordan and Lebanon.