Syrian tanks storm town near Turkey despite pressure from Ankara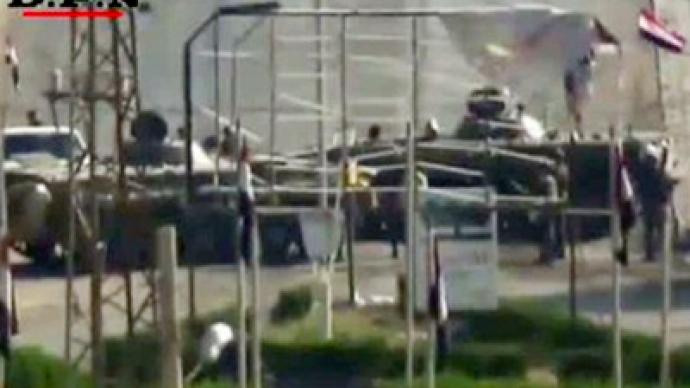 Dozens of Syrian tanks stormed a town near Turkish border on Tuesday as Turkey's Foreign Minister arrived in Damascus to deliver a "strong message" to President Assad over the ongoing violence against protesters in Syria.
The tanks, as well as armored vehicles, have entered the town of Binnish in the Idlib Province, witnesses said. At least five civilians have been killed, among them two girls aged six and 11, activists say. The troops also pushed into the center of a key eastern city of Deir al-Zor, according to Reuters. The provincial capital of an oil producing region has been blockaded by government troops for the third straight day.Turkish Foreign Minister Ahmet Davutoglu met with Syrian leader Bashar Assad on Tuesday and urged him to stop the brutal crackdown against anti-government protesters that has already claimed lives of at least 1,600 civilians.Davutoglu also pointed out that his latest visit should be viewed as the "last warning," according to Turkish media.He was also expected to negotiate the setting up of a date for holding free and fair elections, releasing all political prisoners and taking immediate steps to implement political reforms.Turkey, once one of the strongest allies of the Assad regime, has grown increasingly alarmed by the escalation of the death toll among the protesters in Syria, as well as the situation along the border between the two countries. Recep Tayyip Erdogan, the Prime Minister of Turkey, had said earlier this week that his government has "run out of patience" over the ongoing brutal suppression of anti-government protesters by the pro-Assad forces. Erdogan describes the Syrian uprising as a domestic issue for Turkey, because of their 850-km shared border, Reuters says. However, the Assad government has already warned Turkey from interference into its "domestic affairs" and stated Syria would not accept any steps of the kind.Russian Foreign Minister Sergey Lavrov spoke with his Syrian counterpart on Tuesday. He underlined that the priorities should be stopping the violence and launching profound political reforms.The UN Security Council condemned the "widespread violations of human rights and the use of force against civilians by the Syrian authorities," by adopting presidential statement on Wednesday.Syria has faced nearly five months of protests against Assad's 11-year rule, inspired by Arab revolts which overthrew leaders in Egypt and Tunisia earlier this year.