"Syrian armed gangs aren't peaceful demonstrators" – Canadian analyst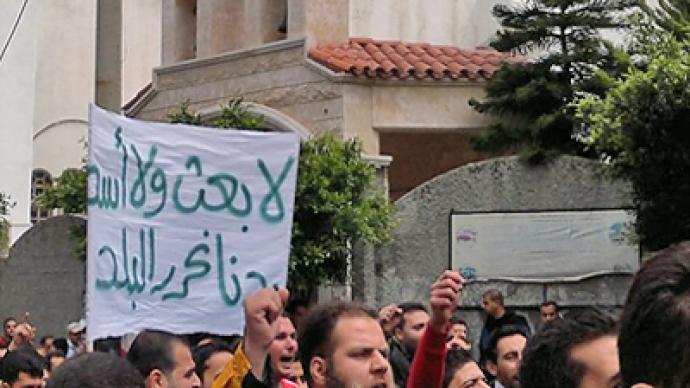 The Western media is showing a rather biased picture of what is happening in Syria, argues an analyst from the Canadian Center for Research on Globalization, Michel Chossudovsky.
"Look at what happened right from the beginning in the small border town of Dara'a, which is located approximately five to 10 kilometers from the Jordanian border," he said. "What happened on day one, that was March 17-18, was that there was a confrontation between police officers and armed demonstrators or armed protesters."

"According to reports, seven police officers were killed in that initial encounter and, I am quoting, at least four demonstrators," Chossudovsky added. "That is what happened on day one, which suggests that we are not dealing strictly with a peaceful protest movement, we are dealing with armed gangs, which are corroborated by these killings of policemen."

According to human rights groups, at least 580 people have been killed in the ongoing unrest in Syria. 
Hundreds were reportedly arrested across the country on Sunday. Al Jazeera television quoted witnesses as saying that Syrian security forces were breaking into homes in Deraa in search for men under 40 years old. Scores of activists have also been arrested in the cities of Damascus, Qamishli and Raqqa.
Last week the UN Human Rights Council narrowly approved a US-sponsored resolution condemning the Syrian violence. The statement calls on the UN leadership to launch an investigation into human rights violations in the country.

The resolution was supported by 26 member states of the council, while Russia and China, along with seven other states, voted against it. Seven other nations, including Saudi Arabia, abstained from voting.

NATO should not get involved with Syria, believes author and journalist Afshin Rattansi, or the consequences could be grave.  

"Of course, any NATO attack on Syria would result in so much disastrous consequences," he said. "The Strait of Hormuz, Palestinian groups, people in Egypt would all probably rise up against it because Syria is such a linchpin of everything that is against US hegemonic power now in the Middle East."