UN sending non-essential international staff out of Syria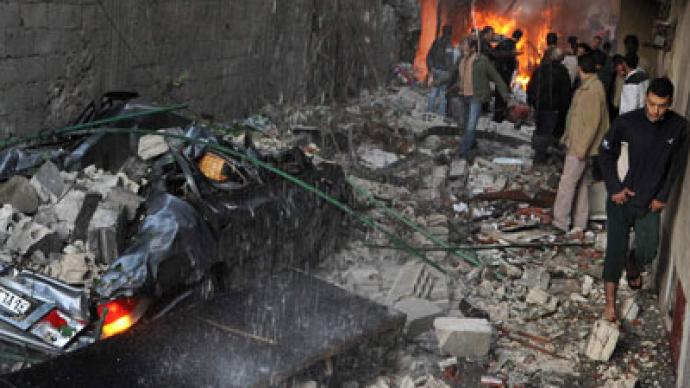 The UN says it is sending "all non-essential international staff out of Syria" and halting aid missions outside Damascus. The organization is restricting travels for remaining employees.
A quarter of the 100 international staff in Damascus could leave this week. Some staff could be moved out of the northern city of Aleppo. Travel outside the capital will be restricted, UN humanitarian officials said, as quoted by IRIN agency.Officials say the move is necessary because the situation in Syria has deteriorated.Regional humanitarian coordinator for the UN, Radhouane Nouicer, said that security needed to be reassessed because of violations to international humanitarian law."The security situation has become extremely difficult, including in Damascus," he said."For as long as international humanitarian law is not fully observed by all parties to this conflict and for as long as the safety of humanitarian workers is not strictly secured, UN agencies have to review the size of the their presence in the country as well as the way they deliver humanitarian aid," he continued.Damascus has largely remained safe since the Syrian conflict began. However, the city's main airport was closed last week after several attacks by rebels.Internet services also suffered a two-day blackout nationwide."The situation is significantly changing…there is an increased risk for humanitarians as a result of indiscriminate shooting or clashes between the parties," UN chief security advisor in Syria, Sabir Mughal, said.Top UN security adviser Sabir Mughal said humanitarian workers are at serious risk in Syria. Eight UN staff have been killed since the beginning of the 20-month uprising against President Bashar Assad.Russian President Vladimir Putin says that Moscow shares international concern over the humanitarian situation in Syria. The leader met with Turkish Prime Minister Recep Tayyip Erdogan in Istanbul on Monday."We hope clashes and bloodshed in Syria would end immediately," Erdogon said in a statement. He added that the foreign ministries of Turkey and Russia were taking further steps regarding the Syrian conflict.Also on Monday, an EgyptAir flight from Cairo to Damascus turned back because of a "bad security situation" at the Damascus airport, an EgyptAir official said.EgyptAir flights resumed on Monday. The company canceled all flights due to "security reasons" on Friday, leading to a three day grounding."The decision comes after coordination with the Egyptian embassy in Damascus and the EgyptAir office in Syria and making sure the security conditions are stable at the moment in Syria," EgypAir CEO, Roshdy Zakaria, said in a statement.
You can share this story on social media: