Syria presents foreign fighter list in bid for UN to acknowledge terror acts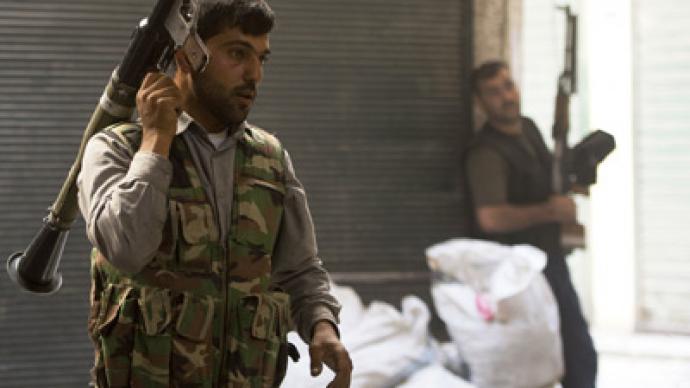 Syria has presented the UN Security Council a list of 143 foreign citizens killed in Syria fighting government troops. Damascus hopes the move will force the UN to declare the presence of foreign nationals in Syria to be international terrorism.
The Syrian government reportedly presented proof that citizens of 19 different nations had fought in the country alongside rebel forces.Bashar Jaafari, Syria's permanent representative to the United Nations, wrote a letter the Security Council requesting they register the list of mercenaries as an official document on the UN's agenda of "measures to combat international terrorism."The UN Security Council has not yet officially recognized Syria as a country confronting international terrorism. Last month, Syria delivered a previous version of the list containing 108 names.The new list contains the names of citizens from 19 countries accused of joining Syria's rebels: Afghanistan, Algeria, Azerbaijan, Chad, Egypt, Iraq, Jordan, Kuwait, Lebanon, Libya, Pakistan, Palestine, Qatar, Saudi Arabia, Sudan, Tunisia, Turkey, Yemen and Chechnya. Since Chechnya is not a country, but a republic of the Russian Federation, the list likely contains names of Russian citizens.The list consists of the names of people who were positively identified through ID or documents found on their bodies that helped establish their nationality. The bulk of the dead mercenaries in Syria are apparently still unidentified.Syrian officials have frequently claimed that there are a sizable number of foreign fighters from various Middle Eastern and North African countries among the rebels. Damascus has alleged that the mercenaries infiltrated Syria through Turkey.Syrian state TV aired several reports in recent months claiming that the army has captured Al Qaeda-linked mercenaries from Egypt, Libya, Pakistan, Tunisia and Yemen.In July, Dutch photo journalist Jeroen Oerlemans and British photographer John Cantlie were captured and held hostage in Syria for a week by rebel militants. They claimed that several of their captors spoke English with recognizable regional British accents, like Birmingham and London.And in August, Syrian rebel commanders reportedly became concerned over the numbers of hardline Islamists entering Syria from other Muslim-majority countries.Chechen nationals were also observed fighting alongside rebel forces in Syria, British media reported. President of the Chechen Republic Ramzan Kadyrov strongly denied the allegations, saying that no Chechens were fighting in Syria.But last August, 24-year-old Chechen national Rustam Gelaev, son of notorious Chechen warlord Ruslan Gelaev (known as 'Black Angel' and killed in 2006), reportedly died in Syria in unclear circumstances. The ongoing fighting in Syria between the rebels and government forces started in March 2011 and has already killed over 37,000 people on both sides.Syria's scattered opposition recently joined together to form a coalition council, which is now being recognized as Syria's legitimate government by major European countries like Italy, France and Britain.The Syrian government is still supported by Russia and China, who provide diplomatic backing for Damascus and have used their veto power in the UN Security Council to block several Western initiatives aimed at ousting President Bashar Assad.
You can share this story on social media: