Syria 'hemorrhaging' people in worst refugee crisis in recent history – UN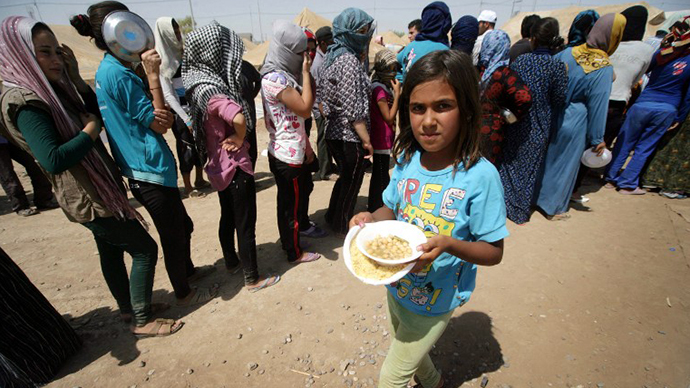 The UN Refugee Agency has announced the number of Syrians, who have fled the country since civil war began in March 2011, has exceeded 2 million. Those who stay have to deal with fears of US strikes and violent attacks by rebel extremists.
RT's LIVE UPDATES on Syrian 'chemical weapons' crisis

This latest estimate means the number of Syrian refugees is now 10 times higher than just a year ago, with approximately half of those displaced being children.  The trend is described as "nothing less than alarming" in a statement the UN Refugee Agency (UNHCR) released on Tuesday. 
"The war is now well into its third year and Syria is hemorrhaging women, children and men who cross borders often with little more than the clothes on their backs," the statement reads. 
With a further 4.25 million people displaced inside Syria, according to data from the UN's Office for the Coordination of Humanitarian Affairs (OCHA), the total of 6 million Syrians forced out of their homes makes the country's refugee crisis the gravest in the world at this moment. 
UN High Commissioner for Refugees, António Guterres, said displacement of Syrians was "unparalleled in recent history".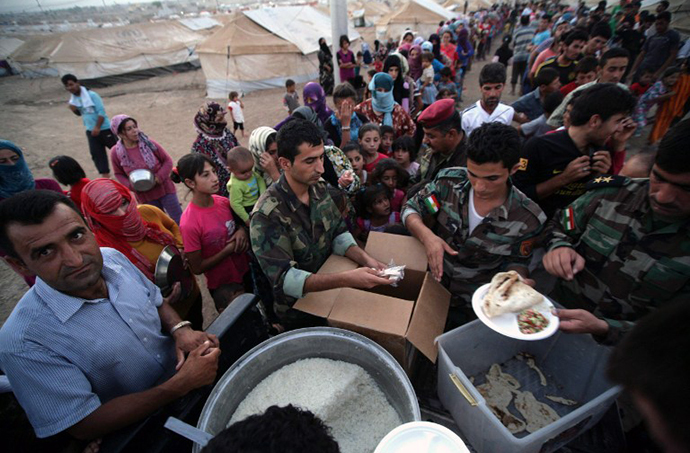 As far as official figures go, Lebanon is bearing the biggest brunt of the crisis with 716,000 Syrian refugees being registered or pending registration there as of the end of August. The UN data further suggests 515,000 are settled in Jordan, 460,000 in Turkey, 168,000 in Iraq and 110,000 in Egypt.
A US film star Angelina Jolie, who is also a UNHCR Special Envoy, spoke of the enormous pressure the Syrians outflow is causing. 
"If the situation continues to deteriorate at this rate, the number of refugees will only grow, and some neighboring countries could be brought to the point of collapse," she said.
UNHCR would like to see more international support to the countries, accepting refugees from Syria. To accelerate that, the UN body is holding a meeting on Wednesday with ministers from Iraq, Jordan, Lebanon and Turkey.
So far, humanitarian agencies working in Syria are only getting 47 percent of funds required to meet basic refugee needs. 
The outflow of Syrians has intensified during the last week, following news of a possible US military intervention.  An estimated 5,000 Syrians have recently been fleeing the country every day.
Those who stay

Despite the massive exodus, there are Syrians who pledge to stay in the country no matter what, according to RT's Maria Finoshina, reporting from Damascus.
"I smile when they tell me about the American attack. We, Syrians, are only afraid of God, we are not afraid of the US," Damascus resident Nour Rafea told Finoshina. 
Nour's brother Mohamed, a young and famous actor, was killed 10 months ago, allegedly by anti-Assad rebels. 
A year ago, Mohamed Rafea complained to RT that the once flourishing soap opera industry in Syria was boycotted by Arab TV satellite channels, mostly owned by wealthy Saudis and Qataris, who didn't want to see a good image of Syria portrayed.
"They want to fight everything good in Syria. They don't want us to show our lives, how we take care of each other, how we love each other. They are fighting us actually," actor Mohamed Rafea told RT in 2012.
Now Nour Rafae says his brother's outspokenness cost him his life.

"They wanted to take him alive, to torture him and force him to confess that he was working for the government, and then show that to Al Jazeera. Of course they pay a lot of money for that sort of thing. But he resisted – to the death," Nour said. 
The actor's brother says Mohamed's death made many people who supported the opposition change their minds. 
"So when he died, they asked themselves: what are those people who belong to the opposition doing - if they kill innocent civilians. Some of them are nothing more than criminals".
You can share this story on social media: