Lavrov says 'no talks with Islamist militants in Syria'
Amid the Geneva 2 peace conference, Russian Foreign Minister Sergey Lavrov stated that no talks will take place with terrorists in Syria. Meanwhile, UN mediator Lakhdar Brahimi hopes aid will enter the besieged city of Homs on Monday.
"We refuse to have talks and do not recommend other parties to hold talks with them over principled considerations," Lavrov said in an interview with Russia's NTV on Sunday.
The minister noted that Jebhat an-Nusra, the Islamic state of Iraq and Levant, and other Al-Qaeda branches cannot be involved in the peace process while militants "rampage and commit terrorist acts [in Syria]."
Lavrov has expressed doubts about including the recently established Syrian Islamic Front - a Sunni Muslim organization of Islamist rebel groups fighting against the Assad government - in the peace process.
The Islamic Front includes organizations that were directly involved in a massacre that killed at least 32 civilians in Adra, Lavrov said, and "some or another structure can hardly be imagined to be a partner in peace talks."
"Militants are flowing like communicating vessels between the Islamic Front, Javhat al-Nusra, the Islamic State of Iraq and the Levant - they go to where more money is paid," Lavrov said.
"It is important that political process would be accompanied with a union of sound forces, which think about their homeland, but not about creation of a Halifat in the Middle East or North Africa in order to unite them in different ways and help them combat terrorism," he continued.
'The goal is to combat terrorism'
Lavrov stated that Russia, along with all other G8 members - the US, the UK, France, Germany, Italy, Japan, and Canada - believe that "extremists and terrorists call the tune increasingly in different Syrian regions."
He recalled British Prime Minister David Cameron's proposal at the G8 summit in Northern Ireland's Lough Erne in June 2013 to include an appeal to the Syrian government and opposition in the final summit declaration. All G8 partners, including Russian President Vladimir Putin, supported the proposal.
The task of combating terrorism is "becoming higher priority with due account of the scale of terrorism threat that grows in Syria and already spreads on Iraq," the Russian foreign minister said.
The final goal "is to attain political accord between the Syrian government and reasonable, secular and patriotic opposition as quickly as possible and along with political settlement help them to unite for fight against these terrorists," the minister continued.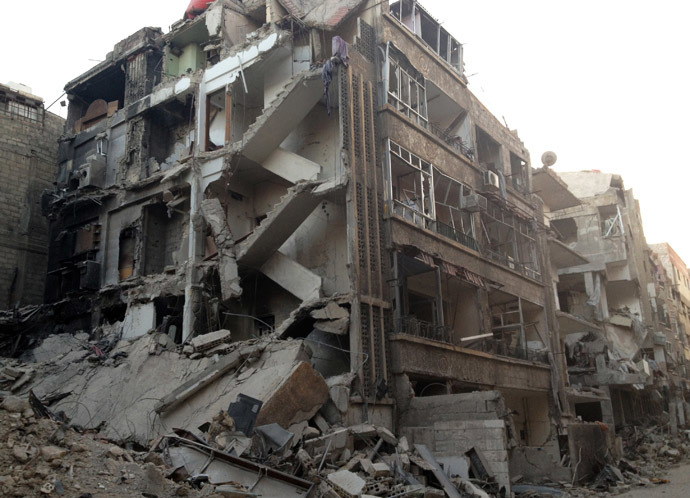 Prisoners' release, humanitarian aid discussed at Geneva 2
The third day of Geneva 2 peace talks focused on the fates of the thousands jailed, kidnapped or missing in Syria. The government and opposition delegations agreed to release about 7,000 prisoners, including 2,000 teenagers, Interfax reported, citing official sources close to the negotiations.
The delegation of the Syrian opposition said before the talks started on Sunday that the National Coalition has already prepared a list of prisoners. The government delegation demanded the opposition to provide a list of people who have been kidnapped by militants during the ongoing conflict.
"The opposition agreed to collect such data and provide it to the government. We hope that these promises will be fulfilled" UN mediator Lakhdar Brahimi said during a Sunday press conference.
Another issue discussed on Sunday was the arrival of an aid convoy arriving to the besieged city of Homs. Brahimi said he hopes women and children will be able to leave the city on Monday.
"…Other civilians are also welcome to leave, but the government needs a list of their names first," Brahimi said. "So hopefully, starting tomorrow, women and children will be able to leave the old city in Homs. And I hope that the rest of the civilians will be able to leave soon after that."
The delegation of the Western-backed opposition attempted to talk about delivering aid to different areas. However, President Assad's media advisor, Bouthaina Shaaban, told RT Arabic that the government has relevant structures in place to deal with such issues.
"In 2013, the Syrian government had a plan to deliver aid to all affected areas. But terrorists used snipers who killed people, and blocked roads, not even allowing the Red Cross mission to drive to the affected areas."
"In order to solve the problem of where to send the convoy [with humanitarian aid], we do not need to go to Geneva and carry out an international peace conference. We also have a plan [of humanitarian aid delivery] for 2014 and we have started to implement it" she said.
You can share this story on social media: