Syrian rebels kill 9 students in attack on school near Damascus
Published time: 4 Dec, 2012 13:56
Edited time: 5 Dec, 2012 12:23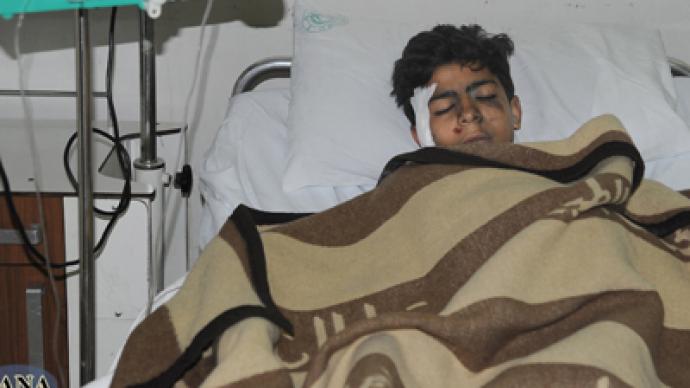 A mortar attack by Syrian rebels on a school near Damascus has killed nine students and their teacher, Syrian TV reported. State broadcasters branded the attack a "horrific crime" committed by "terrorists."
State news agency SANA's initial reports of the attack on Bteiha School, about 20 kilometers northeast of Damascus, put the death toll at 29. SANA later revised and lowered the number of casualties to nine.

The Wafideen camp is home to some 25,000 people forced out of the Golan Heights, which has been occupied by Israel since 1967.
Although the attack was confirmed by the Syrian Observatory for Human Rights, the identity of the attackers remains unknown. Syria's state news agency reported that an unspecified group of rebels shelled the school.
"They were killed by a mortar launched by terrorists," the broadcaster said, referring to the rebels fighting the pro-government forces.

The suburbs of Damascus – a rebel stronghold since the uprising against President Assad began in March 2011 – have witnessed heavy fighting since last week after the army fought to regain lost territory around the capital.
The situation in Syria has deteriorated in recent days, prompting the UN to order "all non-essential international staff out of Syria" and halting aid missions outside Damascus.
The Syrian government claims that the conflict is being orchestrated from outside of the country.

Historian Gerald Horne believes NATO is looking to use civilian deaths as a pretext for intervention.
"The killing of innocents by the rebels is part of the blueprint of the North Atlantic Treaty Organization," Horne told RT. "Recall that in February-March 2011 we were seeing the same scenario – the scenario of the supposed protection of civilians in North Africa, in Libya in particular, and how that became a prelude to regime change in Tripoli."

Russian Deputy Foreign Minister Mikhail Bogdanov claimed that extensive supplies of weapons were being sent to the Syrian opposition, despite the arms embargo placed on the war-torn country.