EU targets Assad's wife and mother with sanctions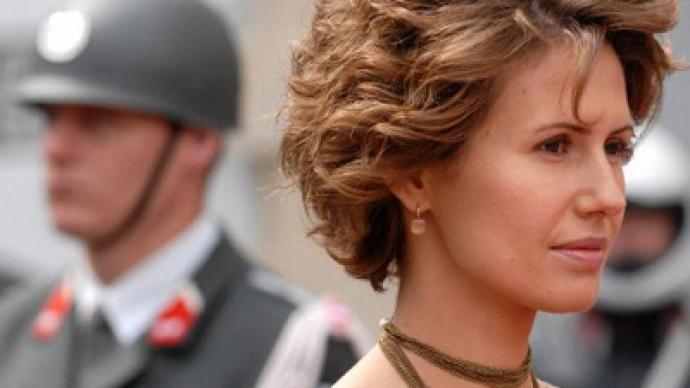 The EU has imposed a new, 13th round of sanctions against Syria, this time targeting President Assad's wife, other close relatives and some of his ministers. The restrictions are seen as extra measure to pressure on Assad and force him to step down.
While meeting in Brussels on Friday, EU foreign ministers added four members of the Assad family and eight government ministers to the list of Syrians facing asset freezes and bans on travel to the EU. The list of people targeted by the EU sanctions will be made public on Saturday. The newly-imposed sanctions will also come into force tomorrow.According to officials, who spoke on condition of anonymity, 36- year-old Asma Assad, the president's wife, will still be allowed to travel to the UK, as she was born in London and has British citizenship. "British passport holders do obviously have a right of entry to the United Kingdom," British Foreign Secretary William Hague confirmed. "But given that we are imposing an asset freeze on all of these individuals and a travel ban on other members of the same family and the regime, we are not expecting Mrs Assad to try to travel to the United Kingdom at the moment.""With this new listing we are striking at the heart of the Assad clan, sending out a loud and clear message to Mr. Assad: he should step down," Dutch Foreign Minister Uri Rosenthal said on the sidelines of the EU ministers' meeting in Brussels, Reuters reports. The new round of sanctions is being added to previous restrictions, aimed at isolating Assad. Those include an arms embargo and a ban on importing Syrian oil to the EU. It is reported that EU officials also barred European companies from doing business with two Syrian oil companies.British Foreign Secretary William Hague stressed the importance of increased pressure on the Syrian regime.President Bashar Assad has been the target of sanctions since May 2011, but these measures have so far failed to stop year-long violence in Syria.Also on Friday, the UN Human Rights Council has condemned "widespread, systematic and gross violations" in Syria. It extended the mandate of UN expert panel there with 41 members voting in favor of an EU-sponsored resolution which prolongs the commission of inquiry's mandate through its September session. Three members – China, Russia and Cuba – voted against. Two countries abstained and one did not vote.A previous report on Syria made by UN observers accused "particular individuals, including commanding officers and officials at the highest levels of government" of committing "crimes against humanity and other gross human rights violations."On March 22, the UN Security Council issued a non-binding statement on Syria supporting UN- Arab League envoy Kofi Annan's six-point plan, which includes an immediate ceasefire by both sides, as well as access for humanitarian aid and the start of political dialogue.The UN has estimated more than 8,000 people have been killed since the uprising began last year.
You can share this story on social media: