Syria locked into a deadly spiral of protest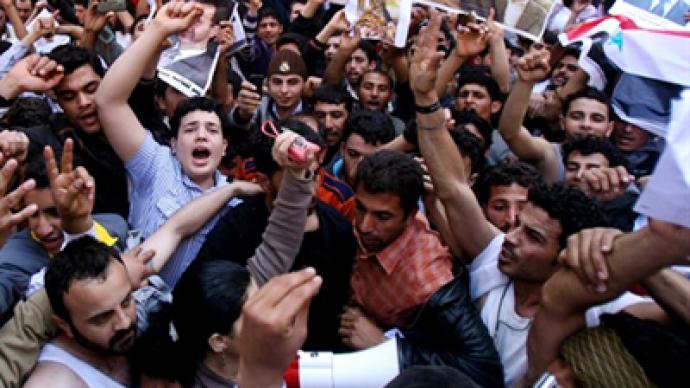 In the flashpoint coastal town of Latakia, troops have been deployed after twelve people were killed and over 200 wounded there over the weekend in the latest domino effect of Arab world protesting.
In the southern coastal town of Latakia, dozens of people have died in the clashes, local news reported. The Syrian government has already deployed some troops to the city to suppress unrest in the region.In Damascus, the capital of Syria, it is rather quiet, RT correspondent Natalya Novikova reports. However several hundreds of the president's supporters have gathered around the Al Jazeera news channel building, threatening to burn it down as they are unhappy about their coverage of the events unfolding in Syria.The authorities have opened fire on the demonstrations against the emergency rule in the country in the city of Daraa, according to Reuters, when hundreds took to the city's central square calling for freedom. The agency also reports Syria's vice president has promised that within days President Hafez al-Asad will give voice to some "very important decisions".Commenting on the possibility of intervention in Syria, US secretary of state Hillary Clinton said the reason for intervention in Libya was Gaddafi using his army against his own people, and the situation in Syria is not the same. However, more than 150 people have already been killed in the week-long protest and now Syrian army units are deployed in Latakia.While the government blames foreign sources, locals claim government troops are responsible.Protesters are demanding an end to the "state of emergency" in the country in place since 1963, as well as more political freedom.A Syrian government advisor said in the interview that the emergency law is to be lifted, but he did not exactly mention when that is going to happen.President Bashar al-Assad, who's facing the deepest crisis of his 11 years in power, is expected to address the nation in the coming days.The situation in Syria has become increasingly tense during the past week.The Syrian state news agency said unknown armed agents started shooting people from rooftops on Saturday, targeting residents and security forces.It all began with a group of students arrested on March 11 after writing anti-government slogans on the walls of their high-school, which forced people to come out onto the streets.Protests centered in the southern Syrian city of Daraa burst into nationwide unrest last Friday when tens of thousands of protesters marched in cities across the country.
Professor Rosemary Hollis, a Middle East expert, thinks although the Syrian government will do its best to calm the demonstrators, it might already be too late  "We should expect that the authorities are going to try to establish the minimum of what they have to do to reverse the trend of demonstrations in the streets of Syria. We've seen this before. But it might be too little too late,"
The situation in Syria has raised fears another foreign intervention could be possible.James Denselow, writer on Middle East politics and security issues, says although the West has no appetite to intervene in Syria's affairs right now, it might change its mind."From what we are hearing from Washington and from the Europeans, there's no appetite for expanding the current intervention that we are seeing in Libya. Even in Libya Americans were very quick to hand over to NATO, therefore to wash their hands of total responsibility for what will happen next there" says Denselow, "the West could  be forced to intervene simply because of the level of bloodshed. But we are a long way from that now."
You can share this story on social media: