Syria peace talks plane held in Athens over EU trade embargo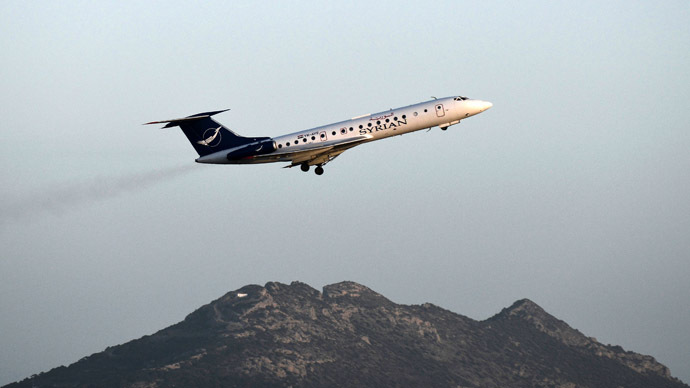 A Syrian plane with 26 Geneva 2 peace talks delegates onboard has reportedly left Greece. The plane was stranded in Athens for hours when it was refused a refuel in a fuss over EU sanctions against Syria.
The local news agency reported the plane took off from Athens airport at 15:00 GMT.
The plane had earlier been en route to Switzerland. It was permitted to pass through the relevant airspace and had to land in Athens for refueling.
However, a refuel was denied, which resulted in few hours' delay.
The head of Greece's Civil Aviation Workers Union has said that a Greek firm refused to refuel their plane, citing an EU trade embargo.
Vassilis Alevizopoulos said the plane was allowed to land in Athens, but the fuel company refused to refuel it due to European Union sanctions against Syria.
The Foreign Ministry had to intervene to settle the conflict. It then said that local authorities were conducting "the procedure which applies in the cases of an international embargo, and after completion, the aircraft will be fueled and will get off to its final destination."
"Everything is OK, it has been cleared for take-off," foreign ministry spokesperson Konstantinos Koutras, said as cited by Reuters.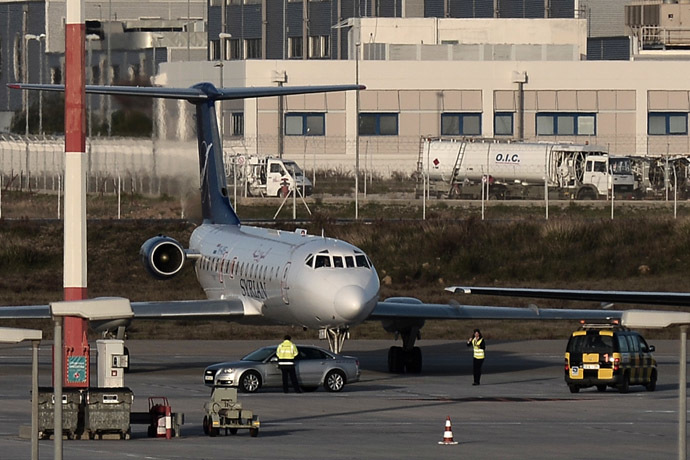 Nearly three hours after unofficial negotiations the issue was settled. Refueling started at 15:30 local time, the Athens News Agency reported.
Due to the delay, the head of the delegation, the Deputy Prime Minister, and Foreign and Expatriates Minister Walid al-Moallem, were late for the scheduled meeting with UN Secretary-General Ban Ki-moon in Montreux, Switzerland on the eve of the beginning of Geneva 2, SANA reported.
The Geneva 2 conference, slated for January 22, has been on the verge of collapse.
One of the recent threats that put the peace talks in jeopardy was the Western-backed Syrian opposition's demand to withdraw the invitation to Iran by 19:00 GMT Monday.
UN chief, Ban Ki-moon, retracted his invitation saying that Tehran "has chosen to remain outside that basic understanding" of the global consensus behind the Geneva communiqué.
Following the announcement Syria's main opposition group – the Syrian National Coalition – confirmed its participation in the peace talks.
You can share this story on social media: