UN peace envoy to Syria denies plans to deploy 3,000 peacekeeping troops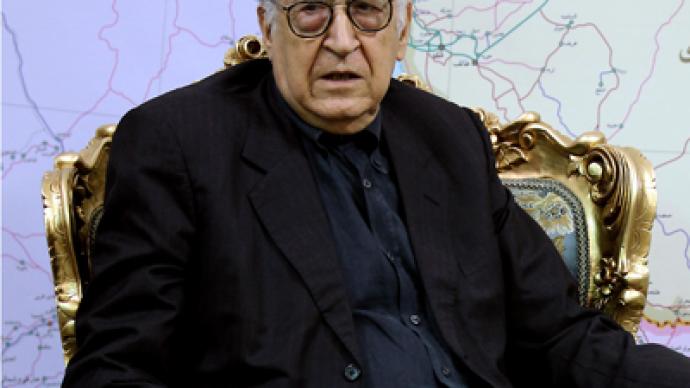 Reports on an alleged plan to deploy 3,000 peacekeeping troops to war-torn Syria are "false," said Lakhdar Brahimi, the new UN-Arab League peace envoy to Syria, denying mass media speculations.
"You've read that I have asked for peacekeeping," Brahimi told reporters at a joint news conference with Iraqi Foreign Minister Hoshyar Zebari. "I haven't.""I don't know where this news came [from]. It certainly did not come from me," Brahimi said.It was earlier reported that Brahimi had mentioned a plan to deploy a 3,000-strong force of international peacekeepers to Syria on Saturday, during his visit to Istanbul, in a bid to calm rising tensions between Syria and Turkey ahead of his trip to Damascus to broker a ceasefire.A Telegraph report suggested that Brahimi was looking for countries to participate in the mission. He particularly considered the states that currently contribute to Unifil, the 15,000-strong mission policing the Lebanese-Israeli border."He [Brahimi] is looking at all options, and not putting all his eggs in the peacekeeping basket, but all information points to him exploring the peacekeeping option in a very serious manner," the newspaper quoted a source as saying.The article specified that America and Great Britain will not be involved "because of their past involvement in Iraq and Afghanistan."However, Brahimi's spokesman Ahmad Fawzi denied the report, saying that "he has done none of the above," describing the Telegraph piece as "false."Fawzi, on behalf of Brahimi, denied allegations that the envoy "has spent recent weeks quietly sounding out which countries would be willing to contribute soldiers."In a personal letter to Al Arabiya's correspondent in New York, Fawzi suggested that the media who published the reports probably had a "wrong source."Fawzi explained that the Department of Peace Keeping Operations at the United Nations (DPKO) "came to Lakhdar Brahimi with their contingency planning ideas with several options," adding that Brahimi "narrowed down DPKO's options [and] during the course of DPKO's research they must have sounded out TCCs [Troops-Contributing Countries.]"On Monday Brahimi reiterated his position, calling for a temporary ceasefire in Syria during the four-day Eid al-Adha holiday later this month. Brahimi previously stressed that the key to resolving the conflict in Syria is dialogue, rather than the use of military force.He also asked Iran for help while meeting with that country's leaders in Tehran.There, Brahimi underlined that the crisis in Syria "was getting worse every day" and stressed the urgent need to stop the bloodshed. He also reiterated the call by UN Secretary-General Ban Ki-moon for a ceasefire and a halt to the flow of arms to both sides. A former Algerian foreign secretary, Brahimi replaced Kofi Annan as the United Nations-Arab League envoy to Syria in August, after his predecessor resigned from the post. He is on his second regional tour aimed at finding a solution to the 19-month conflict in Syria after Damascus rejected a UN call for a unilateral ceasefire.Brahimi met with Saudi and Turkish officials last week and visited Iraq on Monday, where he met with the President Jalal Talabani, Prime Minister Nuri al-Maliki and Foreign Minister Hoshyar Zebari.
You can share this story on social media: