Arming opposition in Syria is violation of international law - Lavrov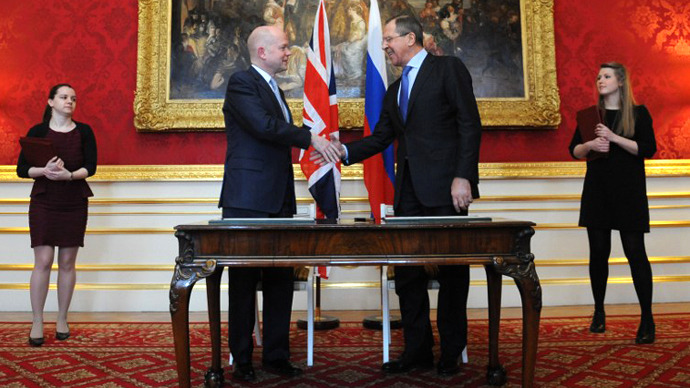 Russian Foreign Minister Sergei Lavrov has said that plans to arm the Syrian rebels would violate international law, citing Libya, where anti-Gadhafi forces received arms despite an embargo on the country.
Mr. Lavrov and Mr. Hague, the Russian and British Foreign Ministers, met in London with the Russian Defense Minister Sergei Shoigu and the British Defense Secretary William Hammond, after lunch in Lancaster House.
"As for the possibility of arming the opposition, as far as i understand, it is not allowed by international law, that's why arming of the opposition directly or indirectly will be the violation of the international law," Lavrov told journalists at the Press Conference.
Lavrov continued that in Libya, when the UN Security Council imposed an embargo on supplying arms to either side of the conflict, it was broken with arms deliveries continuing openly, from both European and Arab countries and that this was a violation of international law.
Hague said the UK did not rule out anything for the future as the situation in Syria was unpredictable and may get even worse.
He reiterated that to date, the help the UK was giving the Syrian opposition was largely made up of a humanitarian nature and was designed to save lives.
He added that this help sent an important signal to the Syrian National Coalition in the absence of any political dialogue.
Lavrov said that there should be no preconditions for dialogue in Syria "if we want to save lives" but that if the goal was regime change then different conditions for talks may be discussed.
"The Geneva Communiqué doesn't have any preconditions, such as the removal President Assad from power, and those who say this is necessary in order to start a political process put this geopolitical goal first, before the goal of stopping the violence," Lavrov said
On Monday Prime Minster David Cameron said he may break with the EU in May and veto an extension of the EU arms embargo on Syria.
While last month Mr. Hague announced that the UK would supply non-lethal aid to the Syrian rebels, including four-wheel drive armored vehicles and body armor.
Lavrov has repeatedly said that as Assad was not about to leave Syria, the only meaningful way for talks to progress was for Assad's government to be included in talks with the opposition.
You can share this story on social media: