Chemical weapons watchdog postpones meeting on Syria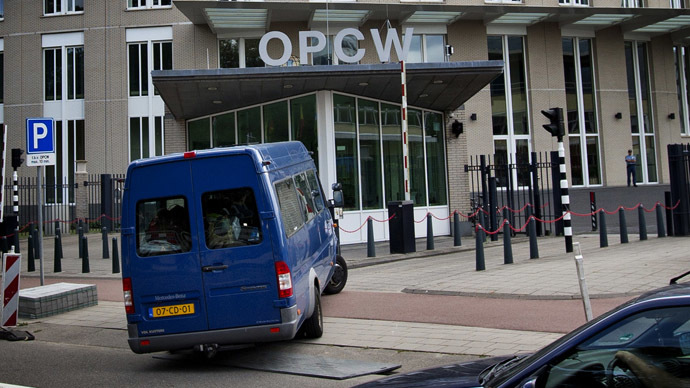 The world's chemical weapons watchdog has postponed a meeting to discuss the recent Russia-US plan to destroy Syria's chemical arsenal. The news comes as Damascus handed over an inventory of its stockpiles in line with the joint proposal.
The Organization for the Prohibition of Chemical Weapons (OPCW) said it would announce a new date and time for the meeting "as soon as possible."

Diplomatic sources told AFP that a draft text to be discussed at the meeting had yet to be agreed upon by Moscow and Washington. The Hague-based OPCW has already postponed the meeting several times over the past week.
The organization's 41-member Executive Council, which is comprised of ambassadors from different states, is due to discuss a plan agreed upon by Foreign Minister Sergey Lavrov and his US counterpart John Kerry following three days of talks in Geneva last week.
On Saturday, the top diplomats struck a deal on a framework that will see the destruction or removal of Syria's chemical weapons by mid- 2014. This is to avoid a US-led strike against Damascus over a deadly chemical weapons attack in August. Washington has blamed the government of President Bashar Assad for the August 21 attack on a Damascus suburb, which killed anywhere between 281and 1,729 people. Damascus blamed opposition fighters for the assault. 
Under the plan, Syria is to become a party to the OPCW, which is charged with implementing the Chemical Weapons Convention. OPWC and UN inspectors were also granted "unfettered access" to any and all sites in Syria.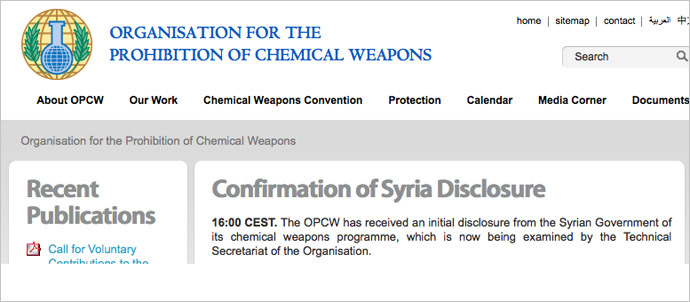 It remains undecided who will actually be tasked with destroying Syria's stockpiles, although their destruction "outside of Syria" and under "OPWC supervision" would be preferable, the Russia-US proposal read.

Russia currently has no plans to destroy the Syrian chemical weapons stockpile on its own territory, Defense Minister Sergey Shoigu said earlier on Thursday.
"A decision needs to be taken on this," Shoigu told the Interfax agency when he commented on the matter. "We have factories for the destruction of chemical weapons, but there is a big difference between 'ready' and 'willing' to."
Syrian President Bashar Assad said earlier he was committed to the chemical weapons agreement and vowed to hand over the country's chemical arms for destruction. The plan will cost around $1 billion and take about a year to complete, he added.
With the Syrian government's weapons stockpiles thought to be spread across as many as 50 separate sites, the act of decommissioning in the middle of an active conflict could prove incredibly dangerous and costly. Many non-proliferation experts say that new facilities would need to be built at each chemical weapons facility to destroy all of the toxic substances, Foreign Policy reports. 
Building, staffing and running dozens of new facilities would be so expensive that foreign companies contracted to neutralize Syria's arsenal could command a great deal more money than estimated by Assad.
You can share this story on social media: