Groundhog year: Cooking Syria 'Libya-style'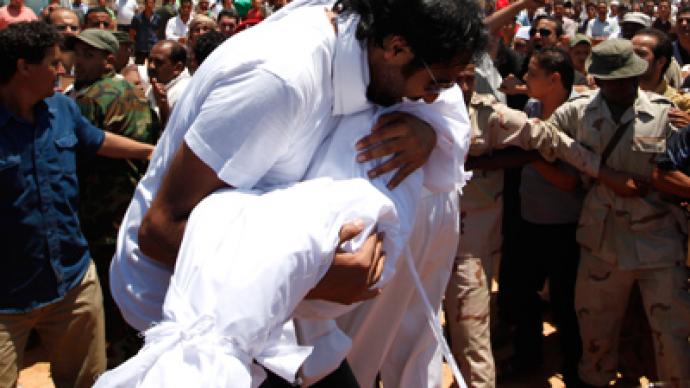 Libya is marking the first anniversary of the revolution that brought the country plenty of destruction, but not as much democracy. And while NATO denies intentions to interfere with Syria, Libyans have learned the hard way "freedom" is exported.
NATO has 'no intention' 2.0
"NATO has no intention whatsoever to intervene in Syria. We appreciate very much all the efforts to find a solution to the conflict in Syria. I appreciate the work of the Arab League. I do believe that a regional solution has to be found," NATO Secretary General Anders Fogh Rasmussen said in Brussels on Wednesday.It would be easy to take these words at face value, if less than a year ago Fogh Rasmussen did not declare that NATO would not intervene in the conflict between Muammar Gaddafi and the Libyan opposition:"I would like to stress that NATO has no plans to intervene [into Libya] and we have not received any request," he said in February 2011.The Libyan recipe is being followed with utmost care, down to the tiniest detail. Washington has already come up with calls for "Friends of a democratic Syria" to unite and rally against the government of President Bashar Al-Assad. The club has every chance of growing into a new iteration of the "Friends of Libya," which oversaw international help for opponents of late, deposed Libyan leader Muammar Gaddafi. Moreover, the group coordinated NATO military operations to protect Libyan civilians, something that is not envisioned in Syria – for now.
Excellent investment vs. Humanitarian mission
Still, humanitarian and peacekeeping rhetoric around Syria is reaching a boiling point, and many cannot get rid of an unpleasant feeling of déjà vu. During the uprising in Libya, the UN and NATO dashed to the country to end "crimes against humanity," but with the very beginning of the military operation, many wondered at the sudden zest for human rights."You have to find a political and economic interest before you start believing in humanitarian reasons. In all humanitarian interventions there is another reason that is much more important," science professor at Paris West University Nanterre La Defense Pierre Guerlain told RT.In Libya's case, no sooner had UN resolution 1973 on the "no-fly zone" been adopted, than the National Transitional Council (NTC) approached the French leadership with a tempting offer. France was to get 35 per cent of Libya's oil sector in exchange for "full and constant support" of the NTC in its fight against Muammar Gaddafi, reported France's Liberation newspaper. British author and Guardian journalist Simon Jenkins says that access to oil and the Mediterranean were the real causes of the Libyan war. "There are mixed motives in all these interventions. We tend to intervene in countries where we have some interests – in this case oil," he told RT.Another lucrative option for Western powers was pricey rebuilding contracts. First, bombs tore Libya apart, and later Western companies got paid to put the country back together. According to the UK Department of Trade and Investment, the value of contracts to rebuild Libya in areas ranging from electricity and water supplies to healthcare and education, could amount to upwards of US $300 billion over the next 10 years.The game in Syria seems more complicated, as the country is but a modest producer of oil and gas. The Arab Gas Pipeline, which exports Egyptian natural gas to Jordan, Lebanon and Israel, might be of some regional interest. But even after the pipeline is expanded to Turkey, Iraq and Iran, its importance will hardly be global.Targeting Damascus may be a geopolitical tool employed against Iran in the regional power reshuffle. A revival of Iran's empire casts worries on Turkey and Qatar, and with Tehran's growing influence over post-war Iraq and Afghanistan, an attack on Assad's regime, a close Iranian ally, seems only too logical."Damascus is to be persecuted not exactly for repressing the opposition, but because it is unwilling to sever ties with Tehran," the head of the Russian national security council, Nikolay Patrushev, told Kommersant newspaper.
Western troops out – off with democracy?
NATO, taking control of the Libyan operation on March 31, 2011, interpreted the UN resolution the way it saw fit. Under the flag of "protecting civilians," the alliance quickly focused on getting rid of Muammar Gaddafi and his regime, and propping up a government, which is now more or less in power.In late October, Gaddafi was assassinated in his hometown of Sirte, an event videotaped and broadcasted by media around the world. This brought the fighting to an end, and NATO was quick to declare their campaign in the country as one of the "most successful in NATO history." Given all that, what is to become of Syria if the West chooses to bring democracy there as well? The opposition Syrian National Council has already offered Gaddafi's fate to President Assad and his family. Three months into a relative peace in Libya, the circumstances surrounding Muammar Gaddafi's death remain a mystery. Armed groups still answer to no central authority in NATO's newly-liberated Libya, and refuse to give up their arms. On February 16, the UN General Assembly passed the new draft resolution on Syria calling for President Assad to step down and demanding a transition to democratic rule.
Elena Ostroumova, Elena Medvedeva, RT
You can share this story on social media: