Tug of war: Retaliatory kidnappings pull Lebanon into Syrian conflict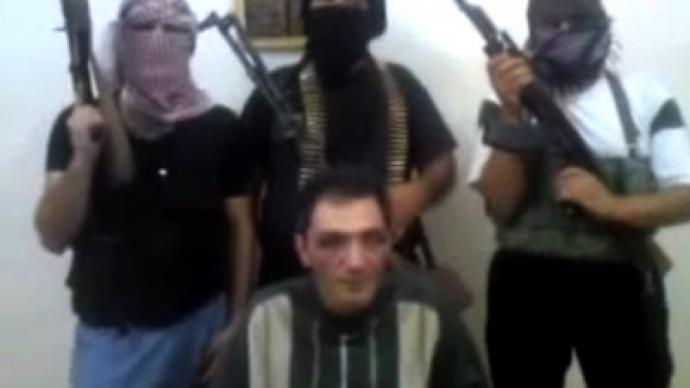 A Lebanese Shiite clan abducted over 20 Syrians and a Turk in retaliation for a family member kidnapped by the Free Syrian Army. The group threatened to capture more citizens from countries allied with Syrian rebels unless the hostage is released.
Hatem al-Mikdad, a senior member of the clan, threatened to target citizens from Qatar, Saudi Arabia and Turkey, he said in an address to the Lebanese National News Agency."We will kill all of them [hostages]" if relative Hassan al-Mikdad is not released by the Free Syrian Army (FSA), Hatem said.The clan abducted over 20 Syrians, including members of the FSA and a Turkish national, they announced on Wednesday."We don't care what is happening in Syria. We respect the will for democracy. We just want our son to come back to Lebanon safely," Maher al-Mikdad, another senior member of the clan told Reuters.The clan broadcast a video on Lebanese national television on Wednesday in which two men who identified themselves as members of the FSA were shown in the custody of masked gunmen.The move came in response to a video released by the FSA on Tuesday, which showed the interrogation Hassan al-Mikdad by three Syrian gunmen. In the video, Hassan says that he was sent to Syria as a sniper by Lebanese Hezbollah to support the Assad government against the ongoing uprising in the country. Hezbollah issued a statement denying that Hassan al-Mikdad is a member.Lebanese Prime Minister Najib Mikati decried the abductions, but offered no concrete plan to defuse the tensions. "This brings us back to the days of the painful war, a page that Lebanese citizens have been trying to turn," Mikati said.Saudi Arabia, the United Arab Emirates and Qatar issued warnings to citizens in Lebanon, urging them to leave immediately in light of "explicit threats to abduct Saudi citizens and others."Air France diverted a flight away from Beirut on Wednesday over security concerns.The retaliatory kidnappings have sparked fears that the Syrian conflict is fueling sectarian divisions and spilling over into neighboring countries.The Syrian government is composed mostly of adherents to the country's Alawite religious minority, an offshoot of Shia Islam. Syrian opposition groups are largely made up of Sunni Islamists demanding the removal of President Bashar al-Assad. Assad has blasted Sunni Gulf Arab countries and Turkey for supporting the Syrian rebels.Lebanon has sought to distance itself from the escalating conflict in Syria, but slowly been drawn into the escalating violence. Accusations of weapons smuggling and the harboring of rebels have led to cross-border skirmishes.
You can share this story on social media: