Israeli planes strike Syrian military base to destroy Russia-made missiles - reports
Israeli warplanes struck a Syrian air defense base near the port city of Latakia on Thursday, US official have confirmed to media.
An Obama administration official told AP that the attack happened overnight on Thursday, but provided no details. Another security official told the news agency that it took place in the Syrian port city of Latakia, and that the targets were Russian-made SA-125 missiles.

Another US official told CNN that the Israelis believed the base near Snobar Jableh, south of Latakia, had sensitive and sophisticated missile equipment that may have been transferred to the Lebanese Shiite militant group Hezbollah.
Earlier, Dubai-based broadcaster al-Arabiya reported two attacks carried out by the Israeli Air Forces – one in Latakia and the other one in Damascus.

Neither the Syrian nor Israeli governments have commented on the alleged attacks. No casualties have been reported.
A spokesman for the Israeli Defense Ministry declined to speak on the matter. "We're not commenting on these reports," he told Reuters.

However, an Israeli official speaking anonymously to the news agency said he was inclined to believe that Israel had carried out a strike, although he was not entirely certain. 
The Lebanese military said it observed six Israeli jets flying over Lebanese territory on Wednesday, Reuters reported. Israeli jets frequently fly over Lebanon, but such high numbers have in the past been an indication of a military strike against Syria. 
Earlier in the day, the Syrian Observatory for Human Rights (SOHR) said there was a series of explosions at a Syrian air defense base in the Mediterranean coastal province of Latakia.

"Several explosions were heard in an air defense base in the Snubar Jableh area," SOHR director Rami Abdel Rahman said, adding that the reason for the blasts remains "unclear."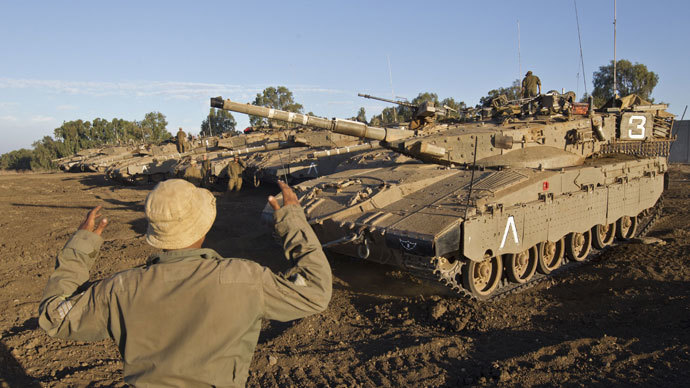 Meanwhile, a Syrian security source said that "a rocket fell near the base, causing a fire to break out," AFP reported. 
However, RT Arabic's source within the Syrian security forces has denied the media reports.

Ammar al-Asad, head of the foreign affairs committee within the Syrian National Council, said in an interview with RT that "In Latakia, we did not hear any sounds, incidents, or anything that can prove the attack happened."

There have been five previous incidents in which Israel is believed to have struck inside Syria. The first of those took place in January. In all of the alleged attacks, the reason given was that Israel feared that weapons were making their way into the hands of Hezbollah. But many critics said that it was just an excuse for a blatant direct attack inside Syria, RT's Paula Slier explained.
In the past, Damascus has threatened to strongly retaliate against such attacks. 
You can share this story on social media: