Iraqi army helped Syrian government retake border checkpoint - reports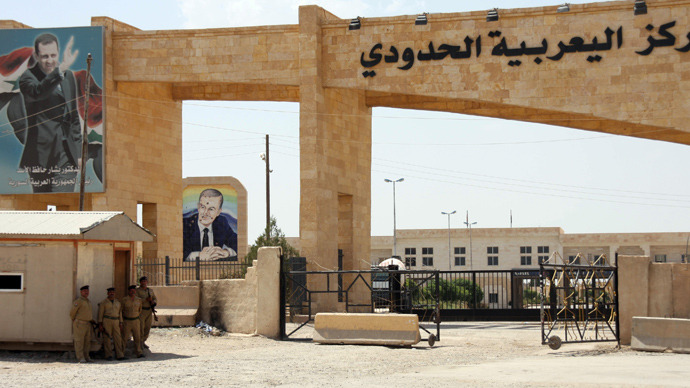 The Iraqi army has reportedly shelled Free Syrian Army positions inside Syria near the border with Iraq. Unconfirmed reports suggest that Iraq was helping Syrian government forces regain control of a border checkpoint seized by the insurgency.
Syrian troops have recaptured the Al-Ya'robiya checkpoint on the border with Iraq on Friday night. According to witness reports on Twitter, Iraq's armed forces moved in to help with the operation and shelled the border post, which was held by the rebels.
An Al-Arabiya correspondent also confirmed that targets inside Syria had been shelled while Iraqi snipers took positions near the crossing. Massive reinforcements have also been deployed in Baghdad near the Syrian border, the correspondent said.

#BreakingNews: Iraq's armed forces shell regions inside Syria: Al Arabiya correspondent

— Al Arabiya English (@AlArabiya_Eng) March 1, 2013
The Syrian Observatory for Human Rights announced that a border checkpoint on Syria's northeast border with Iraq had been overrun by rebel fighters from the Al-Nusra Front on Thursday but were recaptured by government troops after less than 24 hours.
Earlier on Friday, the conflict once again spilled into neighboring Iraq after a Scud missile fired from Syria landed near a village in Iraq's Nineveh province, causing no significant damage. Last time rockets fired from Syrian territory hit Iraq, in September 2012, they killed a 5-year-old girl.
Iraqi Prime Minister Nouri al-Maliki warned on Wednesday that a Syrian rebel victory could spark sectarian violence in his own country and the whole region.
"Neither the opposition nor the regime can finish each other off," he said in an interview with the Associated Press. "If the opposition is victorious, there will be a civil war in Lebanon, divisions in Jordan and a sectarian war in Iraq."
You can share this story on social media: