Syrian struggle: view from the ground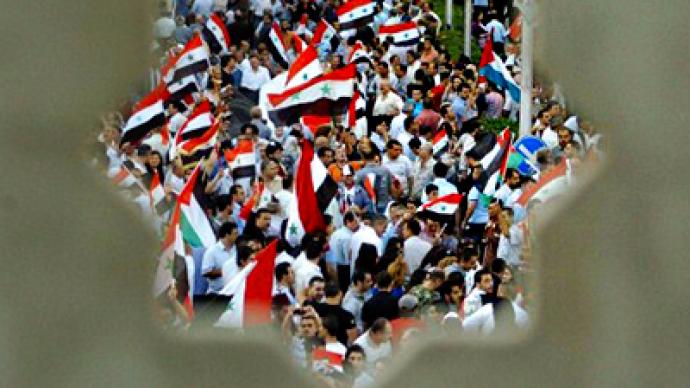 While world powers are split on whether to support the Syrian government or the opposition, RT's sister channel Rusiya Al-Yaum's correspondent Marianna Belenkaya traveled to Syria to see what is happening in the protest-torn country.
At some point, one can easily lose track amid the news from Syria – what to believe, what is right, and what is not. The Syrian Diaspora in Moscow (and perhaps not just in Moscow alone) was split apart; so in order to understand what really was going on, we went to the scene.But once you get to Syria, it does not get any easier – all stories are very subjective, and depend on who you talk to at the moment. All people share their own truths, their beliefs, and their impressions.I do not claim to be objective. This text is my impressions from the trip, and from meeting the people that the circumstances brought to me. Perhaps, had there been different people, my impressions would have been different. I changed or left out their names for safety reasons. In a country where the word "freedom" has no meaning anymore, the army is not the only one that kills – so do those who call themselves the opposition. They kill those who dare to think and act differently from everyone around them.
Story one
Salam, 41 (journalist, Damascus) "I was unable to reach my mother and brother in Daraa by phone for three weeks. A military operation was deployed there, so telephones were out of service. Then I managed to call them and to travel there. Eventually I learned that the first person killed in Daraa was my best friend. He worked as a night guard at a store. When servicemen entered the city they told him: 'You'll be the first one who we kill in Daraa.' His body was lying in the store for several days. People were unable to leave their homes to bury their dead. My brother will remember for the rest of his life seeing two old ladies dragging a stiffened corpse. They were walking slowly carrying a broom with a while cloth over it, from one checkpoint to another."
Story two
Hasan, 31 (doctor, Damascus)"You should've seen the wounds of those brought to the hospital – snipers' bullets, and grenade shrapnel. Don't believe those who say that the army shoots the unarmed. Also, they brought wounded protestors, including a large number of young, 15-16-year-old boys. When you try giving them painkillers, they struggle in your arms and just scream 'Allah akbar' or 'They're killing us'. When you try talking to them, telling them 'I'm your older brother', they don't want to listen. What alternative to Assad does the opposition propose? So far they can only propose a civil war. Is it really a democracy when servicemen's bodies get cut into pieces and then put into bags with words 'Alawi meat – dog food' on them? Is this really a democracy, with slogans 'Christians to Beirut, Alawis to graves'?"
Story three
Hisam, 30 (director, lives in a small town 10 minutes' drive from Damascus) "I was among the first ones to go to rallies, and I welcomed the reforms. But when shooting started in my town (and it wasn't the army shooting but rather the oppositionists and Assad's supporters shooting each other). I left the streets. Let the tanks raze to the ground those who stir up inter-religious strife whoever they may be, oppositionists or regime supporters. The events in Syria are a performance in which each party is wearing a mask and playing a rehearsed role. People don't understand what freedom is. For them, freedom means doing whatever they want at any time."
Story four
Michel, 20 (internet café worker, Lattakia) "We don't believe media anymore. They all take just one side of the conflict. We established our own news network on Facebook. In each city, voluntary reporters tell about the local situations. They report whether there are rallies and clashes, they post their videos, and organize campaigns to support the president. But people don't want to hear us, or rather, they believe we're forced to do this. It's not true. See, the guys in Homs just posted a video on YouTube showing a town welcoming the tanks with flowers. But it's unlikely that large media will show this."
Story five
Ahmed, 65 (owner of a café in the mountains, near Jisr ash-Shugur)"It's easy to stir religious strife even in places where it has never happened before. Not far from here, three villages are located, a Christian one, a Sunni one, and an Alawi one. In the Sunni village, a guy and a girl were killed. The bodies were left lying in the streets. And then they started calling the village residents saying, 'Aren't you men? Why don't you avenge the murders?' The locals say the callers sounded like residents of Hama, the heart of the opposition. And not a word was said, whether to confirm or deny – who called, and who murdered."
Hama
In Hama itself, and not just there, they state that the opposition has nothing to do with the escalation of the inter-religious conflict, and that all provocations are initiated by the regime which would benefit from showing that there is no alternative to it."We really don't hate people of other faiths! The other day, our Christian neighbors came over to check whether their property was safe. We invited them over for tea and chat," say residents of a Hama district, pointing at a nailed-up house nearby.They promise to vote for an Alawi at the upcoming election in Syria, provided his program is more sensible than that of a Sunni candidate. They are even willing to vote for President Assad if he proves to be a real reformer. For these people in the streets, the regime primarily means a large Syrian "war machine", or the internal structures that prevent them from breathing freely, rather than Assad himself. But there are those in Hama who support Assad in spite of the threat of losing their jobs or even lives. "I am for reforms, but along with President Assad," says a young Christian lady with tears in her eyes. And there is so much despair and anguish in her eyes that I just feel like taking her away from Hama.She cannot leave the city by herself, as the public transport does not operate there anymore; what is more, she has to care for her parents, and she still has a job. Many Christians and Alawis have left the city. Entire districts have been deserted.
Hama, the island of "freedom"
We arrived at Hama several days before the servicemen's entry to the city. The city had lived on its own for about a month – no army, no police, no representatives of the authorities. Such a peculiar island of freedom where nobody knew what would happen next. But everyone realized that this status quo could not last forever. Hama's residents were preparing to fight till the very last drop of their blood. Most of them had nothing to lose. The Syrian security force had a list of the unrest instigators, about 4,000 people. The locals later said over the phone that these people were the ones they chased after. But that was two days later, when we had left.Imagine a city where buyers in the streets set their own prices for goods, and dictate their own conditions to sellers. When shop owners disagree, they burn down their shops, or give away all goods to the locals. Other words, they rob in the name of freedom and justice. A city where citizens refuse to pay taxes and utilities, or to repay debts for goods to their trade partners who support the regime. They give weird looks to those who try supporting a different view, or burn their cars; as a result, people do not dare speak up anymore. Freedom should only meet the demands of those in charge of one district or another.It is easy to get to the city by public transport, whereas traveling inside it is difficult. They immediately spot strangers in Hama. You cannot openly see weapons in the streets, except for perhaps knives of checkpoint guards. But they do not conceal the fact that they do have means of resistance. The city is divided into districts, and one cannot drive from one district to another at night. However one cannot reach some districts even at daytime, as roads are blocked off, and the locals do not advise walking there either. In particular, the district under control of Salafi Sheikh al-Aroor, who promotes massacre and whose slogans are compared to those of Bin Laden. "With me you're safe," Abu Nidal, a city local who was accompanying us kept saying. But then he would immediately correct himself that he would not speak for the entire district. Abu Nidal is a bank executive, far from being a lowly figure in Hama. He admits that he could have waited out the unrest at home smoking his water pipe. But he still decided to actively participate in the life of his home city. He said that the permanent humiliation of human dignity on the part of the authorities pushed him toward the opposition. He believes that the authorities do not need smart independent people; to the contrary, they try to get rid of them as soon as they reach a certain level in their career. Whereas the true owner of the country is the mechanism of force, which is allowed to do everything. Abu Nidal's brother, also a banker, shares the same opinion. He worked abroad for a long time, but then he returned "to serve his country". Our conversation with them leaves an impression that both brothers are willing to look for a compromise with the authorities, but they are staying in the city in order to preserve everything they own, and to try and find common ground with those of extreme positions among the "revolutionaries". However, these attempts have not been successful at street level (they burned out the car of one of the brothers following his attempts to persuade the citizens to improve the life of the city and to look for compromise), as well as the higher level of the city elite. During the month of freedom, those in charge of Hama's life never managed to agree on what to do and where to go, as each of them had their own limit line that they could not cross. And Assad did not manage to agree with Hama either – several times, the city's "respected individuals" came over to see him, but a solution was never found. Perhaps, had the president and his ministers visited Hama themselves and met the people on the streets, the situation would have changed. Those citizens who agreed to talk to us were hurt that they, unlike the local elite, were not invited to join the dialogue. "Nobody is still willing to talk to commoners! What reforms can Assad talk about then?" they complained. And immediately, they asked: "Look at us, do we look like criminals the way we're portrayed on official TV?" No, they do not. They rather look like hostages. Hostage to this situation."We cannot see any light at the end of the tunnel," said Abu Nidal as a good-bye.
Marianna Belenkaya, RT
You can share this story on social media: