Syrian security forces kill up to 100 people near Hama – opposition
Published time: 6 Jun, 2012 20:44
Edited time: 7 Jun, 2012 06:55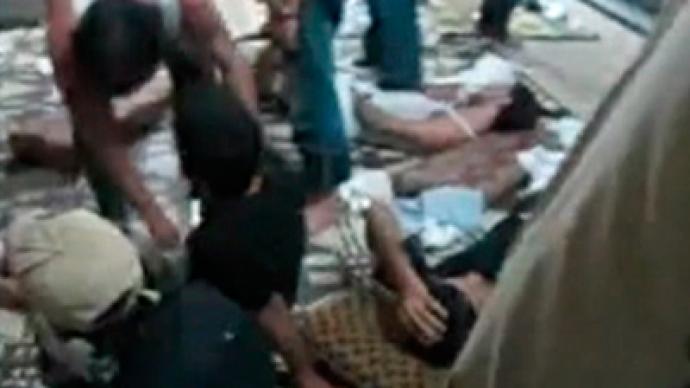 The Syrian opposition claims that as many as 100 people have been killed by government forces in the Hama region. The Syrian government claims terrorists are responsible for the slayings.
­Reports from the Free Syrian Army, the Local Coordination Committees, Syrian National Council and the Syrian Observatory for Human Rights differ on the exact number of casualties.

The Syrian government called the Hama massacre a "monstrous crime," and said its special forces were in the area to combat the "terrorists" behind the killings, according to Syrian State TV. Authorities reported that all of the militants have been killed, with Syrian forces seizing weapons including rocket-propelled grenades.

Women and children are reported to be among the dead. A spokesperson for the Syrian National Council said as many as 100 people died in the massacre, which took place in the villages of Mazraat al-Qubair and Maarzaf, the BBC reports.
Other sources put the number of casualties at 87. Rami Abdul-Rahman, the head of the British-based Syrian Observatory for Human Rights, said he had gathered the names of the 23 people killed in the attacks.

Activists said some of those killed were stabbed to death and that at least 12 bodies had been burned.
An activist who was less than two miles from al-Qubair said he was working to evacuate bodies from the village, CNN reports. He noted that many of the bodies were burned and that only 38 of the 78 victims in the village were men, the rest being women and children.

A Local Coordination Committees activist reported that the Syrian army began shelling the village with tanks at 7pm local time. After the shelling, militias loyal to Assad were reported to have entered the village and executed civilians with knives and AK-47s.

The killings come two weeks after over 100 Syrian civilians were killed in Houla, sparking outrage amongst the international community, with most countries in the West blaming President Bashar Assad and his security forces. It also follows days of violence between government forces and rebels throughout the country that also resulted in dozens of deaths of troops, rebels and civilians.
The massacre also comes just a day before Kofi Annan, the UN-Arab League envoy to Syria, is set to address the UN General Assembly and the Security Council on the progress of his six-point peace plan.
International affairs analyst Lajos Szaszdi believes the massacre is just another attempt by rebels to trigger an international action.

"It appears that the victims may have belonged to a group that settled some decades ago to cultivate the land, with the support of the government," Szaszdi told RT. "They were a protected minority. They may have been killed by rebels to blame it on the government and try to trigger an international intervention, which is something that the rebels want."

He noted the timing of the most recent killings and compared it to that of the Houla massacre.

"The Houla massacre happened just before Kofi Annan's visit to Syria, and now Kofi Annan is going to give an address about the situation, and then this massacre happens," he remarked. "There are members of the armed opposition inside Syria who are very unscrupulous. They don't want to go back to a situation in which they might have to entertain the possibility of negotiating with the government in Damascus. They just want to remove the government by force."