Damascus agrees to cede chemical weapons to intl control – Syria FM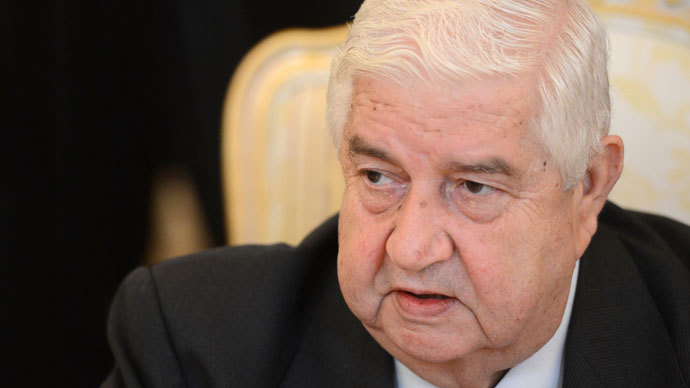 The Syrian government agrees to Russia's proposal to hand its chemical arsenal over to international control in a bid to avert a possible strike by the US-led coalition, Interfax reported citing the Syrian Foreign Minister.
"Yesterday [Monday] we held a round of very fruitful negotiations with Russian Foreign Minister Sergey Lavrov and he put forward an initiative regarding chemical weapons. Already in the evening we accepted Russia's initiative," Walid Muallem said. 

He stressed that the agreement is designed to "pull the rug from under the feet of American aggression."

It follows as Russia proposed to Syrian authorities that they put their chemical weapons under international control and then allow their further destruction. This would be a condition to avoid military involvement in the country as the US Congress was expected to vote on whether to give a green light for a strike after President Obama suggested "limited military action". 
In response to Russia's proposal, Barack Obama said he "would consider this a modestly positive development" and he was willing to "absolutely" put on pause a military strike on Syria if Bashar Assad accepts the offer.

"Let's see if we can come up with language that avoids a strike, but accomplishes our key goals to make sure that these chemical weapons are not used," Obama told ABC News. 
Following a day of debates, the US Senate announced it would not file for a test vote on a resolution to strike Syria.

"Normally, what I would do in a situation like this is file cloture today. But I don't think that's to our benefit. I don't think we need to see how fast we can do this. We have to see how well we can do this matter," Senate Majority Leader Harry Reid.  

The US Senate may not vote this week on the authorization for military strike against Syria, congressional aides said. Congressional leaders also said they want to wait for the public's response to President Barack Obama's address to the American people, which is expected Tuesday night. 
The House Democratic lawmaker said that White House aides told House Democrats that diplomacy, rather than military action, is now the priority on Syria.

Russia will soon present a precise plan for a resolution to the chemical weapon problem.

"We are now working on this – working out efficient precise plan, for that we are in talks with Syrian side. We expect to present the plan, including to the US, in the nearest future. We are ready to elaborate it with the UN secretary- general, UNSC members and with the Organization for the Prohibition of Chemical Weapons," Sergey Lavrov said on Tuesday.

However, Lavrov stressed, this work does not exclude the necessity of investigation of all cases in which chemical weapons were used.

"UN experts should return to Syria and complete their mandate in full. The truth must be found, those responsible should be held accountable," he continued.  
Meanwhile, Britain said it would like Russia and Syria to demonstrate that the proposal to President Bashar Assad is genuine.

"The onus is very much now on the Russian government and the Assad regime to follow up in a way to show that the initiative is a serious and genuine offer," British Prime Minister David Cameron's spokesman said, adding many serious questions remained to be answered.
A White House spokesman also said the US would like to verify that Syria was serious about accepting Russia's proposal, and added that there were several reasons to be skeptical.

Israel has also voiced skepticism about the Russian-Syrian agreement over chemical weapons. Foreign Minister Avigdor Lieberman said the logistics of a weapons transfer are unclear.

He said Syrian President Assad is using the proposal to "buy time" and "is winning time and lots of it."

Earlier Israel's President Shimon Peres said Monday that that Syria is "not trustworthy." 
US President Barack Obama proposed military intervention in Syria after an alleged chemical weapon attack in a Damascus suburb on August 21. Several hundred people were reported killed in the attack, with the US claiming the death toll was more than 1,400.

Both the Syria's government and rebels blamed each other for the attack. The US government said it had "high confidence" that President Bashar Assad's government was responsible for the attack.

The US said that samples collected by first responders after the attack tested positive for the nerve agent sarin.

Syria responded by saying that the evidence presented by the US was without foundation, and based on "terrorist lies" and "media exaggeration."

In response to the US findings, President Barack Obama suggested a limited military strike against Assad to demonstrate that the US would not tolerate the use of chemical weapons against civilians.

Russia, in contrast, accused Syrian rebels of being behind the alleged use of chemical weapons as a provocation designed to encourage a foreign-led strike against Assad's regime.


You can share this story on social media: