Suicide bombing near Shiite school in Syria's Homs kills 7, incl 5 children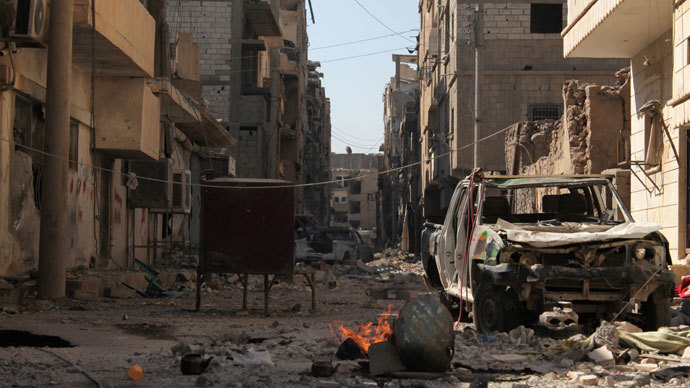 A suicide truck bombing outside a primary school near Syria's Homs has killed at least 7 people, including five children. Dozens of people have been wounded and several buildings were destroyed by the blast.
The truck exploded outside a compound of schools in the Shiite town of Umm al-Amed, the governor's office official said. He said rescue operations have been launched in the area.
Conflicting reports of number of casualties have emerged in the aftermath of the attack, with the governor's office putting a number of dead at 10 and the British-based Syrian Observatory for Human Rights, citing a network of activists on the ground, reported about six killed, saying they do not know yet how many of the dead were children.
There are two workers among those killed. All of the victims are civilians.
Some 34 people have sustained injuries, Itar-Tass news agency reported, citing Suria TV. However, this information could not be independently verified.
Also on Sunday, dozens of people were killed in an eighth day of air strikes on Aleppo. The bombing also destroyed "some 10 cars, as well as a residential building," Aleppo Media Center, a network of citizen journalists on the ground, reported.

It said that the city's hospitals were "packed with wounded," but added that the number of dead could not yet be confirmed.
Syria's civil war, now into its third year, has killed an estimated 6,627 children, a UN monitoring group believes.
Some 126,000 people have died during the war, according to the UN. The recent deadly attack comes a month ahead of peace talks scheduled to begin January 22 in Switzerland.
Both the Assad regime and the rebels have been accused of committing atrocities, massive deadly attacks and of using chemical weapons.
Last week, the Syrian military told RT that over 80 civilians in the town of Adra, northwest of the Syrian capital, were executed by Islamist rebels. Jihadist rebel groups executed dozens of civilians, including children, with some beheaded or burned alive, the military said.
The latest report by Amnesty International indicates that an Al-Qaeda-linked jihadist group in Syria is behind abductions, torture, killing and locking up people in secret prisons with "inhuman" conditions.

Assad's government has been also been blamed and condemned for casualties among civilians.
Earlier this month, the UN body said that its commission of inquiry into human rights violations in Syria has found evidence that "indicates responsibility at the highest level of government, including the head of state."
You can share this story on social media: