Govt airstrike kills dozens in central Syria – activists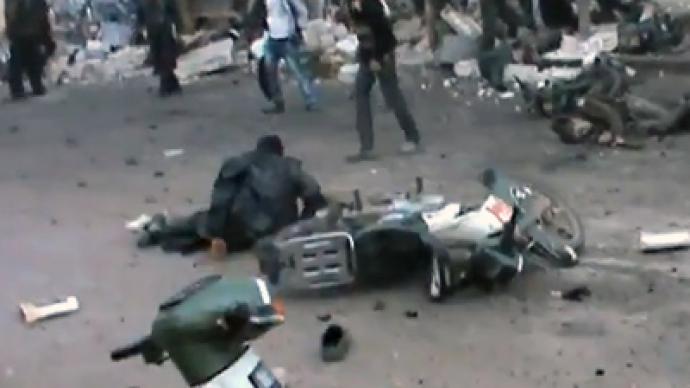 A strike by Syrian forces killed over 180 people in the town of Halfaya, near the city of Hama, says the Syrian Observatory for Human Rights. The state TV blamed the attack on the rebels, accusing them of filming the aftermath to "frame the army."
"In Halfaya, regime forces bombarded a bakery and committed a massacre that killed dozens of people, including women and children, and wounded many others," said Lebanon's Naharnet, quoting the Local Coordination Committees, a grassroots network of activists.Activists say the strike hit a line of people queuing outside a bakery. The account is supported by an amateur video released on YouTube which shows scores of dead or wounded people in the rubble. The footage also depicts men carrying victims out of a bombed one-story block, and a crater in the road beside it."A MiG [jet] has attacked! Look at [President Bashar] Assad's weapons. Look, world, look at the Halfaya massacre," says the unidentified cameraman, adding the ruined building used to be a bakery.The video, however, has not yet been independently verified. If it is authentic, it remains unclear why Syrian forces targeted the town. But reports suggest this might have been a counter-strike as Halfaya appears to have fallen into rebel hands. Moreover, on Monday the opposition forces claimed to be launching an all-out assault on army positions across the Hama region, which has been one of the centres of the uprising. In recent days, rebels have been clashing with government troops in the region around Halfaya, according to the Associated Press. Activists say rebels have taken over a number of regime checkpoints and proclaiming Halfaya a "liberated area". It's part of a wider strategic effort to gain control over the country's main north-south highway.Syria's state news service blamed the attack on "an armed terrorist group", accusing the rebels of filming the aftermath to "frame the Syrian army."
Peace envoy in SyriaThe violence came just before a visit to Syria by Lakhdar Brahimi, the UN-Arab League's peace envoy, who met with President Bashar al-Assad in Damascus. "The situation in Syria is still worrying and we hope that all the parties will go toward the solution that the Syrian people are hoping for and look forward to," Brahimi said.President Assad told reporters that "The government is committed to ensure the success of all efforts aimed at protecting the sovereignty and independence of the country." Brahimi, traveling from Lebanon, arrived in Syria on Sunday, just over two months since his last visit to the war-torn country.Syria's crisis began in March 2011 with political protests which eventually fomented into a civil war, with scores of rebel groups across the country battling Assad's forces. The President says he is fighting a foreign insurgency. The conflict has taken lives of over 40,000, Syrians and created a further 164,000 refugees.
You can share this story on social media: