Eurocrat fury as Swiss 're-build walls' against EU immigration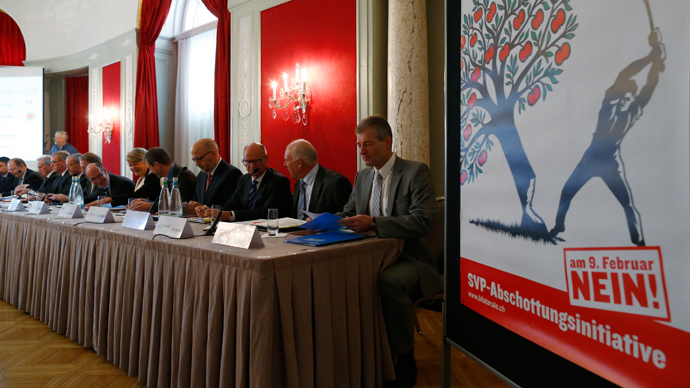 The EU has threatened to review all bilateral agreements with Switzerland if Bern goes all the way and blocks immigrant inflow. On Sunday Swiss voters narrowly approved the return of strict quotas for immigrants from within the EU.
"This is a turning point, a change of system with far-reaching consequences for Switzerland," Switzerland's justice minister, Simonetta Sommaruga, told reporters in Bern.
A 50.3 percent majority of Swiss voters approved the return of quotas for citizens of EU-member countries. However, while support prevails in Switzerland, Brussels is striking back with harsh rhetoric from its top officials.
Europe produced an acerbic response to the Swiss people's decision: "One thing is clear: you can't take advantage of a big European internal market and stay outside [regarding] other questions at the same time. This is what we have to discuss with Switzerland now," slammed Martin Schulz, president of the European Parliament.
Switzerland is not free to revoke agreements with the EU at will, said Schulz.
"For us, EU-Swiss relations come as a package," echoed Schulz's colleague, EU MP Hannes Swoboda. "If Switzerland suspends immigration from the EU, it will not be able to count on all the economic and trade benefits it is currently enjoying. We will not allow ... cherry-picking."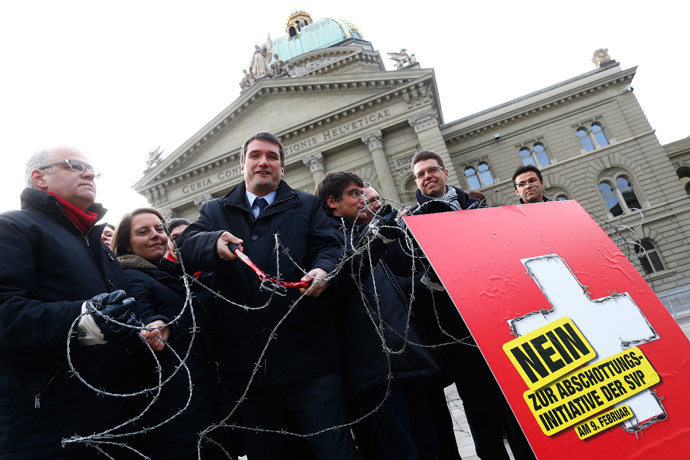 Schulz went as far as threatening a renegotiation of the free movement contract that could result in return of bilateral border controls that "could affect the Swiss population and their free movement in the EU as well," said the official.
Glyn Ford, former Member of the European Parliament, told RT: "The Swiss are perfectly entitled to pass this legislation." He highlighed Switzerland's unusual position in Europe. "Switzerland is not a member of the European Union…it would be very different if a country inside the European Union made the same decision, because that would be a clear breach of the Treaty of Rome," he added.
Ford commented on the move towards the far-right on the continent; it was the right-wing Swiss People's Party (SVP) which introduced the initiative. "In the European elections, in France, in Holland, in the United Kingdom at least, the far right parties will be either first or second in the European elections. This is a phase we're going through; this is a consequence of the financial crisis."
The voting could potentially have an enormous influence on Swiss business as the EU remains Switzerland's major trading partner with $122 billion worth of Swiss goods bought in 2013.
Many transnational corporations, such as Nestle and Swatch, are registered and have headquarters in Switzerland.
Nearly a quarter, or 23 percent, of the 8 million Swiss residents are immigrants. Around 70,000 immigrants come to Switzerland annually. The majority of EU immigrants come from Germany, Italy and France.
'A stand for self-determination'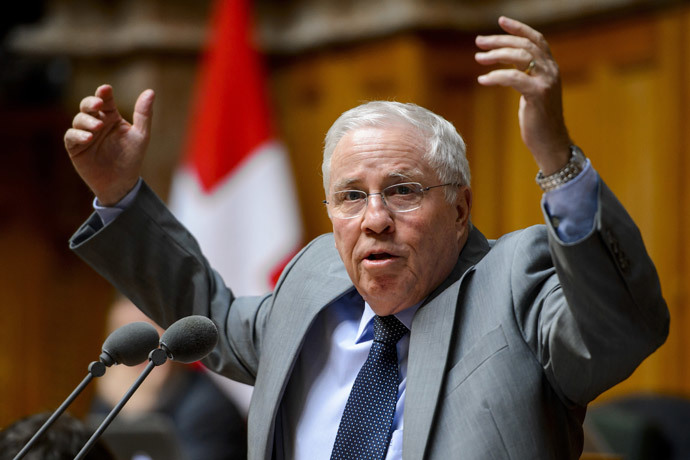 The ultra-right Swiss People's Party (SVP) proposed the 'Stop mass immigration' initiative to denounce the free movement of people pact with the EU that came into force in 2002 as part of a package of agreements.
"The nation has so courageously taken a stand for self-determination…We are not members of the EU and never want to be," SVP strategist Christoph Blocher said in an interview with national newspaper 20minuten.
The party has repeatedly pointed out that the deeply-entrenched concern running through Swiss population that large numbers of immigrants contribute greatly to the aggravation of criminal landscape, rising rents, crowded transport and overall erosion of the traditional culture in the Alpine confederation.
"This is an enormously important decision because the direction must now be shifted," SVP politician Luzi Stamm told Swiss television after the referendum. "The Swiss population have said that, instead of free movement of people, quotas have to be introduced."
German party echoes Swiss sentiment
Switzerland is not the only European country to ponder limiting immigration into the country.
Germany's anti-EU Alternative für Deutschland (AfD) started calls on Monday for a similar law to be implemented in Germany.
"Independent of the content of the Swiss referendum, we should also create an immigration law in Germany which is based on the qualifications and integration abilities of the immigrants, and effectively prevents immigration into our social support systems," Bernd Lucke, AfD spokesman stated, according to Germany's Der Spiegel.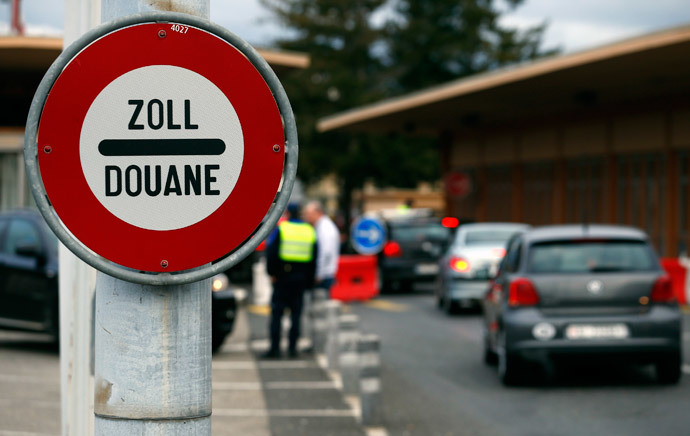 London is another European capital that appears to have entered a state of panic over the levels of foreigners wishing to immigrate into the UK.
Unlike Switzerland, the UK is an EU member state, so it has a free movement agreement with Brussels. The agreement is perceived as being a heavy burden on the British by many of its citizens.
With the general political mood in Britain being anti-immigrant, British PM David Cameron has proposed a variety of anti-immigration measures. He said in November that he would look to sympathetic EU governments to work on allowing member states to halt the number of arrivals if they exceeded a certain threshold. He also said governments could limit the annual number of EU migrants or withhold the right to full freedom of movement until specific countries achieved a certain per capita Gross Domestic Product.
There were laudatory comments from Britain on the Swiss anti-immigrant referendum. The leader of the UK Independence Party, Nigel Farage, congratulated the Swiss on having the "freedom to decide the number and skill level of who they wish to invite to work or stay in their country."
The surge of immigrants is a pressing problem for a number of European countries, where immigrants prefer to keep their traditional lifestyle and refuse to integrate into the new society they come to live in.
The EU was well aware that the Swiss anti-immigration vote would be setting an example for other European nations.
"I fear a 'yes' from Switzerland would set off a further round of debate about free movement of persons in the EU," Schulz told Swiss newspaper NZZ am Sonntag ahead of the national vote on immigration.
In recent years Switzerland conducted at least two more national votes that introduced measures against immigrants. In 2009 the Swiss backed a ban on construction of Muslim minarets. A year later, in 2010, Swiss citizens voted for automatic deportation of foreigners found guilty of serious crimes.
You can share this story on social media: