Super-Pav says he'll stay with Spurs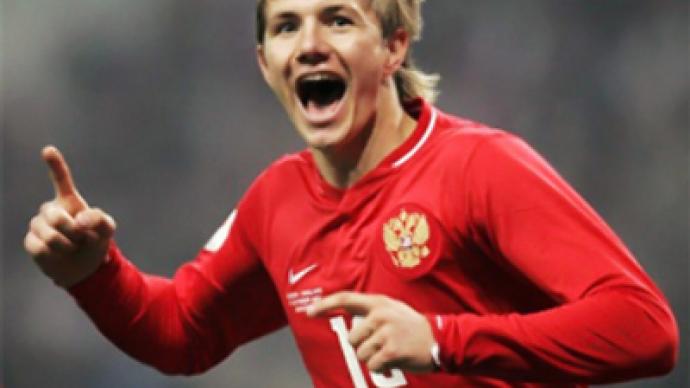 Striker Roman Pavlyuchenko, who's preparing for Russia's clash with Finland, says he'll stay at Tottenham Hotspur next season, despite rumors of him moving to Serie A, Sport-Express newspaper reports.
Pavlyuchenko feels a bit tired after an unusually long season, but says having Russia's coat of arms on his chest is the best motivation for him.
"We are well aware of how many fans in Russia are waiting for a good game from our team. This is better than any doping," he explained.
Russia face Finland on June 10, and a victory in Helsinki would see them go just one point behind leaders Germany in Group 4.
The sides have already played in Moscow in November and Russia were easy 3-0 winners, with the Finns scoring two own goals.
Pavlyuchenko doesn't expect the Wednesday match to be a walk in the park.
"It will be completely different game. It's always more difficult to play away than at home – football axiom… I hope a lot of Russian fans will reach Helsinki, which will be a great help for us. We are in for a tough game: now everybody can play football, but the Finns have never been among easy opponents even for the top teams. But we need the win at all cost," Roman Pavlyuchenko said.
Before joining Russia's training camp the footballer traveled to his home town of Stavropol. Pavlyuchenko, who is a member of the regional parliament, discussed the development of children's football in the region with the governor and the mayor.
The Tottenham star is also planning to open a football academy in Stavropol.
"It'll be called the Pavlyuchenko Academy," he said.
Despite recent reports that he is linked with a move to Italian Serie A side Roma, the striker calmed Spurs fans by saying that he'll stay in London next season.
"First, my agent Oleg Artemov, and then I myself have talked with the club's head coach [Harry Redknapp], and he assured us that he counts on striker Pavluchenko. He said that I shouldn't read newspapers and take all bad thoughts out of my head," Roman Pavlyuchenko said.
Super-Pav said his English has improved recently and he can now talk to Russia's coach Guus Hiddink in the language of Shakespeare.
"We can discuss only simple topics so far: how's my English, how are thing going in London, how am I feeling. This is my level now," he said.
You can share this story on social media: