Long live student rituals!
Published time: 17 Jun, 2011 14:13
Edited time: 19 Jun, 2011 11:53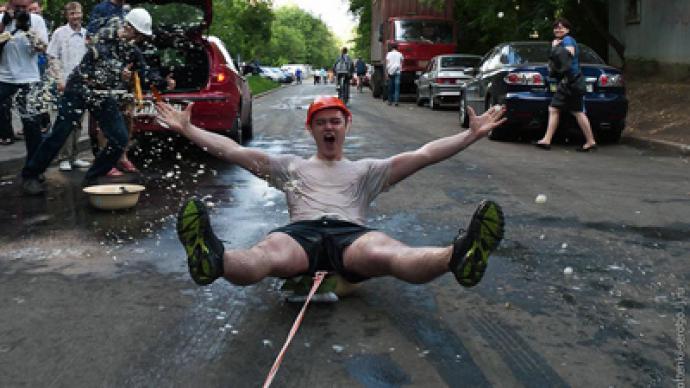 Throw away stationery and textbooks. Buy a basin and a protective cap. Slide down the staircase into the street and race around your compound in a metal basin hitched up to your fellow-student's car. Finally, get saturated with beer.
­This is the way the alumni of the renowned Moscow State Technical University, named in honor the revolutionary Nikolay Bauman, celebrate their graduation, RIDUS-NEWS reports.

The post-graduation ritual includes throwing technical drawing-tubes into the nearby Yauza River and letting all the exercise-books fly out of a window.
The most daring graduates will take a downstairs slide in an empty refrigerator
Watch more pictures in RT's gallery.

Then a graduate puts his workbooks into the basin, making it a softer seat, and slides down into the street from the dormitory for a lap of honor along the nearby streets. The merriment is accompanied with a vigorous beer drenching from the classmates.  

A graduate is responsible for preparing his racing vessel beforehand. The students say the longest-lasting are basins made of aluminum, as those made of steel fail at the very start. The racers hammer a hole and thread a rope through, which is fixed to a car. The vehicle will then speed up to 60 kilometers per hour, with the towed vessels virtually ending up as holes. Not all the adventurers are able to walk afterwards.

Even a few female students of the technical establishment risk joining in the exhilarating event.

The time-honored tradition dates back to Soviet times, when graduation fell in wintertime, making the speedy basin racings somewhat easier. The ritual successfully survived all the changes, when extra studying time was added shifting graduation to summer.

Before the celebrations all the graduates pool some money, approximately US$3.50 per person, which is 100 rubles, for the final cleaning, with major celebrations going on in the campus.

The noisy show, however, usually lasts not less than a month, causing strong protests from local residents.

But the police keep loyal to the tradition, sometimes yielding to the pressure and blocking the nearby roads. The racers then are forced to move inside the campus. Only to revive next year with renewed passion!