Putin lays first stone to restore memorial to Georgian soldiers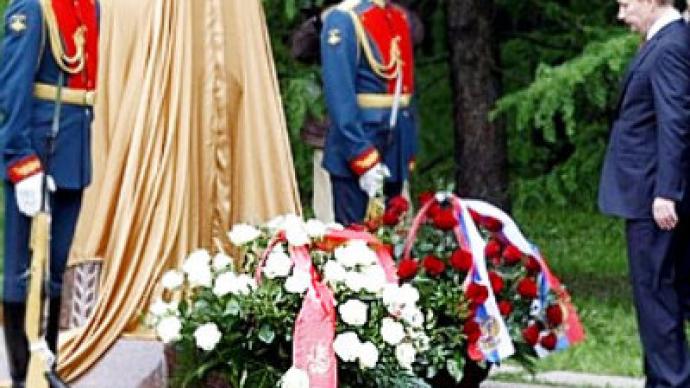 Russian prime minister Vladimir Putin and Georgian opposition leaders have laid a stone to a future monument to Georgian soldiers who gave their lives for the victory over Nazism.
The monument will be erected on Poklonnaya Hill in Moscow and will replace a giant monument in the town of Kutaisi in Georgia which was demolished last year by the country's government.
"The new obelisk on Poklonnaya Hill will be built using voluntary donations," the Russian premier said at the ceremony on Saturday. "It will be a symbol of respect to the Great Patriotic War soldiers, a symbol of the inviolability of the monuments erected to celebrate their heroic deeds."
"We will always remember the glorious historical ways our peoples have come together-in all of its stages, no matter how difficult things were," Putin added.
The Russian premier said the demolition of the Kutaisi monument was "one of the most monstrous examples of barbarism."
"It is hurtful that veterans saw this, that they had to survive betrayal from those who they sacrificed themselves for, those who they died for," he added.
Vladimir Putin pointed out that over 240,000 Georgian citizens were awarded war medals and 137 Georgians received the title of Hero of the Soviet Union.
Georgian opposition leaders Nino Burdzhanadze and Nodar Nogaideli, as well as Moscow Mayor Yuri Luzhkov, also took part in the ceremony.
The future monument will be named 'We fought the Nazis together' and the competition for its design has yet to be completed.
At this point it is only known that the new obelisk will be 10-12 meters tall and will not be an exact replica of the Kutaisi monument.
You can share this story on social media: